NEWS
Spotted!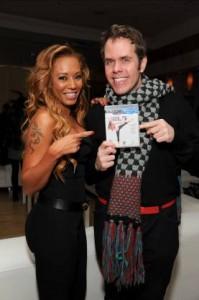 Mel B was spotted at the FitPerez.com Holiday Health Bash at The Sports Club/LA on December 7 playing her own video game with Perez Hilton called Get Fit with Mel B.
Michelle Monaghan arrives in Neil Lane Jewelry at the premiere of Somewhere in Hollywood.
Keisha Whitaker wearing Miriam Haskell's Statement Necklace and Strand Bracelet to the 2010 Kennedy Center Honors in Washington D.C. on December 4.
James Franco and Michael Stipe at Rob Pruitt's 2010 Art Awards held at Webster Hall at The Solomon R. Guggenheim Museum in New York City on December 8.
Jim Carrey bearing the cold by chowing down and raving about The Original SoupMan Lobster Bisque on the set of Mr. Popper's Penguins in Central Park, New York City.
Stars were out en masse at Monday night's American Country Awards. Spotted in the Backstage Celebrity Retreat were Nancy O'Dell, Criss Angel and Band Perry doing some pre-holiday shopping with hissyfit cosmetics, Dooney & Bourke, LifeCell skincare and Country Brand hats. Hillary Scott of Lady Antebellum was seen running in after the show to write a personal letter to be given the winner of Melli Inc's $10,000 pink sapphire and pearl necklace to be auctioned off in her name on eBay to raise funds for Nashville's Vanderbilt Children's Hospital.
Ke$ha sporting a black Baby-G watch in her We R Who We R music video.
Article continues below advertisement
Musician and reality TV star Bret Michaels performed live at The Bank Nightclub at Bellagio on Saturday, December 4, surprising partygoers by opening his set with Poison's hit song, Talk Dirty, followed by one of his most famous singles, Every Rose Has A Thorn.
Mila Kunis, wearing Armani Exchange, celebrated her NYLON Magazine cover at an intimate dinner with musician Joe Jonas, Entourage's Emmanuelle Chriqui, 90210's Trevor Donovan, Jessica Lowndes, Gillian Zinser, Ryan Eggold and Matt Lanter at Cleo at the Redbury Hotel in L.A. on December 9.
Real Housewives of Beverly Hills Kyle Richards was spotted at the FitPerez.com Holiday Health Bash at The Sports Club/LA drinking skinny TY KU cocktails on December 7.
Will.i.am and apl.de.ap from the Black Eyed Peas were spotted at Playhouse Hollywood on Thursday, December 9. Apl.de.ap sang a little montage of some of their hits. Too Short was also in attendance.
On December 7, Taylor Armstrong of the Real Housewives of Beverly Hills threw her daughter Kennedy a holiday decorating party at Sweet E's Bake Shop. Her daughter and a handful of friends got together to decorate cookies and cupcakes just in time for the Holiday Season.
Jessica Stam and Scott Devon welcomed guest at the launch of DEVON Flagship on December 8 in Beverly Hills, CA. Guests included Nicky Hilton, Rashida Jones, Whitney Port, Ben Nemtin, Shannen Doherty and more.
Jaime King wearing Miriam Haskell's Tassel Earrings and Bracelet, as well as Archive 1887's Iggy And The Stooges "Backbend" Raglan Tee to the DEVON flagship store launch in Beverly Hills on December 8.
On December 7, Real Housewife Adrienne Maloof was spotted at the FitPerez.com Holiday Health Bash at The Sports Club/LA sipping Diet Pepsi Skinny.
Supermodel, Jessica Stam carrying KOTUR's Fane Clutch to the DEVON Flagship store launch in Beverly Hills that she hosted with creative director of DEVON, Scott Devon.
Hunky Josh Duhamel, was spotted lunching alone at the bar at Islands in L.A. on Thursday December 9. He kindly took pictures with some of the customers also sitting at the bar.
Caroline D'Amore and Paula Abdul at the Beauty Star event hosted by Jillian Barberie Reynolds to benefit City of Hope on December 7 at Saks Fifth Avenue in Beverly Hills, CA.
On Tuesday, December 7th, the Junior Hollywood Radio & Television Society (JHRTS) hosted their 8th Annual "Young Hollywood" Holiday Party to benefit My Friend's Place. Some of today's hottest new faces of talent from television were in attendance, including Chord Overstreet ("Glee"), Tiffany Hines ("Nikita"), Josie Loren ("Make It or Break It"), James Earl ("Glee," "Glory Daze"), Nicole Anderson ("Jonas"), and Johnny Pacar ("Make It or Break It"), to name a few.
Jamie Foxx hit the bar at Cleo restaurant at The Redbury Hotel in Hollywood for a quick cocktail, before dinner at neighboring Katsuya. Jamie was overheard telling the wait-staff that he is crazy about the crispy Brussel Sprouts on Cleo's menu.
Alex Rodriquez was at opening night of John Delucie's new restaurant at The Raleigh Hotel called The Royal on December 1. Naomi Campbell and her boyfriend were also spotted at the opening night. Naomi enjoyed the tuna tartar and sipped chamomile tea.
Latin pop-star Ricky Martin made a quick visit to Miami's Wynwood Art District hotspot, Cafeina, on Thursday. Martin enjoyed a brief stay in the lounges outdoor garden, just before peeking into the 1,000-square-foot art gallery. Low-key in demeanor, the heartthrob traveled with a minimal entourage and was overheard chatting about his children and upcoming holiday plans.
Tim McGraw enjoying a rare day off quail hunting on his Tennessee farm with family friend Buzz Jacoway.
Michelle Williams and Ryan Gosling attended an Altoids-hosted screening of Blue Valentine in NYC on Thursday where they picked up a 1-year supply of Altoids Smalls to keep their breath in mint condition during the upcoming red carpet awards season.
Carson Kressley, Robert Verdi, Tinsley Mortimer and Richie Rich pose with Santa at the Duracell Mobile Smart Power Lab on Thursday, December 9 at Gansevoort Plaza in NY.
Jordana Brewster carrying Kotur's Fino Feather Clutch to the 2011 Golden Globe Award Season and Miss Golden Globe Announcement Party in Los Angeles on December 9.
Jurnee Smollett, star of Friday Night Lights and The Defender, as well as the acclaimed feature film The Great Debaters carrying SANG A's Pouch Clutch in Gold Twilight and wearing a Miriam Haskell Ring and Cuff Bracelet to Thursday night's 2011 Golden Globe Award Season and Miss Golden Globe Announcement Party in Los Angeles.
DJ Coleman Feltes and Doug Reinhardt feel the vibe at the Trident Vitality™ DJ booth during the gum's launch experience on December 8 at Hotel Gansevoort Park Avenue in NY.