NEWS
Spotted!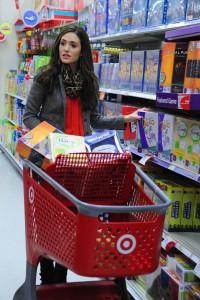 Emmy Rossum was seen strolling down the games aisle at the West Hollywood Target picking up her favorite Hasbro games, including Taboo. Emmy will be packing up the games for her New Year's trip to the Las Vegas Cosmopolitan, where she plans on hosting her own pre-show game night before heading to the star-studded Jay-Z and Coldplay concert.
Cindy Crawford picking up a 1 Sol Swimwear bikini at Canyon Beachwear in Santa Monica.
Golden Globe nominee, Julianna Margulies and actress Kim Raver were spotted holiday shopping at the Fiorentini + Baker pop up store in SoHo this week. While Margulies also did some personal shopping –buying a pair of mid calf boots - and hung out with designer Deborah Baker, Raver and husband were seen leaving the store with many boxes of boots.
Last Wednesday at Terminal 5 in New York City, BroBible's Winter Elixir Concert presented by the Makers of Tanqueray Gin set off the holiday season with crowd-pleasing performances by Big Boi, The Knocks, LA Riots and Dave 1 of Chromeo.
Lakers Andrew Bynum and Pau Gasol were spotting getting their sushi roll on pre and post game at Haru Philly last week. The teammates were sighted at the Haru once earlier in the week and again on Friday after the game.
Expectant parents, Penelope Cruz and Javier Bardem spotted shopping at renowned apothecary, Santa Maria Novella in Los Angeles on December 24.
Soccer player, Carlos Bocanegra and his girlfriend wearing Sportiqe Apparel at the Lakers game over the holiday weekend.
Article continues below advertisement
After performing at his sold out show in Boston on Tuesday, Usher packed up his OMG Tour crew for an after party at Boston's largest nightclub, Royale. The guest of honor descended onto the stage of Royale to welcome his 700 screaming fans. Bottles of Dom Perignon and Remy Martin where served by their private waitress in VIP area who was dressed in deep red, the color of Remy Martin, as requested by Mr. OMG.