NEWS
Spotted!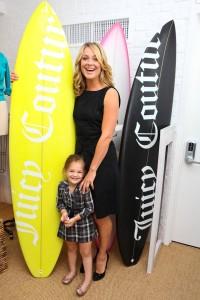 Elisabeth Rohm hosted a Juicy Couture trunkshow to benefit the Boys & Girls Club yesterday in Malibu.
True Blood's Joe Manganiello lifting weights at The Sports Club LA/West Los Angeles.
Kelly Bensimon and Stephanie Pratt hanging out at Ciroc Cabana Club while DJ Phresh & DJ Sub Zero spun music.
Kellen Lutz was hanging out at the Day and Night Party in Montauk last weekend, dancing and partying while smoking Camacho Cigars.
Qtip djing to a packed house at The Volstead.
Katie Lee celebrated her new novel, Groundswell, on a SoHo rooftop with Nate Berkus, Nicole Miller, Fabiola Beracasa and more. Guests sipped Clos du Bois wine and enjoyed a beautiful summer evening.
Bethenny Frankel was spotted in SoHo on Monday dining with friends at David Burke Kitchen's Urban Garden at The James New York where she braved the pouring rain (under a cabana of course) for a screening of Tribeca Film Festival's Bang Bang Club.
Article continues below advertisement
Modern Family's Julie Bowen gets playful with a fellow volunteer at the Drops of Good: The Maxwell House Community Project in Atlanta to help complete massive renovations at a local community center.
Cedric the Entertainer started a luxury hat line of handmade fedoras, newsboys, designer high caps and beanies called WHO CED? The hats become available exclusively online on July 27 at www.whoced.com
Whitney Port sipping on a 28 Black functional beverage at the W South Beach Swim Week party in Miami on July 14, while talking about her clothing Whitney Eve to pals.
Adrienne Bailon was at The LifeStyle Retreat Lounge with a low battery phone and quickly rushed over to the Car Charging Cell phone station to relax while waiting for her next appointment with Mary Kay.
Real Housewives of New York star Kelly Killoren Bensimon danced to night away at Georgica while DJ Samantha Ronson was on the turntables during Blue&Cream's after party on Friday night.
Leonardo DiCaprio stopped by the newly opened West Hollywood Mediterannean dining hotspot, FIG & OLIVE Melrose Place on Sunday to grab some dinner to-go with friends.
Jordin Sparks recently returned from her People to People trip to Austria and Paris as their first-ever celebrity student ambassador. She traveled with a group of students from Rome, NY.
Modern Family's Jesse Tyler Ferguson was spotted having a quiet dinner for two on the patio at FIG & OLIVE Melrose Place on Sunday.
Kevin Connolly wore Calvin Klein Collection for his appearance on July 20 at the premiere of the eighth and final season of his hit show Entourage at the Beacon Theater in New York City.
Following Dream Downtown's much-storied opening bash, the Dream South Beach this weekend did not disappoint. Miami darling Nicky Hilton shared a suite with hotelier and long-time friend Vikram Chatwal following a fun-filled night at the hotel's glamorous pooldeck HIGHBAR. Later, the band of celebs and socialites travelled hotspot LIV, where they partied through the wee hours.
Nicky Hilton, Ice T and his wife Coco, Marc Jacobs' ex-beau Lorenzo Martone and rapper Maxwell celebrated WALL Miami 2 year anniversary on Saturday, July 16.
P&G GIVE Education's "School the Nation" campaign kicked off last week with Grammy award winning recording artist John Legend in support of fighting the dropout rate in our nation's schools.
Reebok Classics and Swizz Beatz hosted a launch party at Espace on Tuesday, July 19, a day before the global launch of the new Reebok Classics "Reethym of Light" campaign and TV commercial. Friends of Swizz including Jay-Z, Beyonce, Alicia Keys, Sean "P. Diddy" Combs, Gayle King, Pharrell Williams, Clive Davis, DJ Khaled, Busta Rhymes, Lloyd Banks and more came out to celebrate and were treated to personal performances by Swizz Beatz and Lloyd Banks on stage with a live band.
Zoe Saldana wearing Neil Lane Jewelry at the Captain America: The First Avenger premiere on July 19 in Hollywood, CA.
Tom Cruise spotted having dinner the past two Saturdays at Essensia in Miami.
Chris Bosh held his lavish wedding at Miami's Fontainebleau on Saturday, July 16 with 300 guests, a fireworks display during the cake cutting and guests included his teammates LeBron James, Dwyane Wade and Wade's girlfriend, Gabrielle Union.
Sir Richard Branson dined with a large party and enjoyed the baby wedge salad, 16 oz. prime ancho and coffee bone-in filet mignon, gouda tater tots and a few beers at Meat Market in Miami.
Perrey Reeves wears David Yurman's Medium and Small Woven Cable Bracelets in gold to the Entourage Season 8 premiere on July 19 at the Beacon Theatre in New York.
Article continues below advertisement
Brit Marling, celebrated the premiere of her new film, Another Earth, at the Standard Hotel in NYC, where guests toasted to the success of the film with Bear Flag Wine.
The CW Hellcat's Ashley Tisdale and High School Musical pal Vanessa Hudgens enjoying mani/pedis at Nail Garden Burbank on Monday, July 18.
Rick Fox was seen taking a lunch break from editing the second season of Off Season at Kitchen 24 Hollywood. He and a friend both sat and chatted over matching Garden Benedicts and Cokes.
House Beautiful kicked off their 2011 Kitchen of the Year in Rockefeller Center with an opening night party where guests like Andy Cohen mingled with host Tyler Florence, who showed off this year's set up, which includes an outdoor Kitchen highlighted by products from Belgard.
Realhouse Wife of Miami star Adriana De Moura rocked the runway Sunday night during the Lisa Blue show at Mercedes Benz Swim Week! Adriana and Lisa Blue designer Lisa Burke got along amazingly and Adriana could not have been more professional – arriving on time and with no diva demands.
On July 18, Bradley Cooper donned his Diesel Black Gold "Gideal" jacket while posing with his wax figure at the first unveiling at Madame Tussauds in Las Vegas.
High School Musical's Ashley Tisdale spent Saturday night dancing with a group of girlfriends at Vanity Nightclub.
On Friday night, The Hangover Part II's Jamie Chung came out to Vanity Nightclub with a group of friends and danced to music by DJ Eric D Lux.
Reality TV personality Adrienne Bailon, Real Housewives of Miami star Cristina Rice and Victoria Secret model Nina Agdal stopped by the Mary Kay Lash Love bar this past weekend to get South Beached glammed by celebrity make-up artist Ashunta Sheriff before hitting the Miami SWIM after parties.
Top Chef Sam Talbot and acclaimed South African chef, Peter Tempelhoff took to the rooftop of the Mondrian SoHo, NYC to present an authentic South African Braai (barbeque) on Monday, July 18. The two chefs personally served guests a menu of Ostrich Steaks with Monkey Gland Sauce and Lamb and Beef Sosaties, while they tended the grill and sipped sangria.
Neyo attended the Have Faith Swimwear fashion show in Miami on July 18. He stayed for the show and watched designer Jennifer Stano walk out to his song.
Jennifer Love Hewitt dined at the Burbank location of Morton's The Steakhouse with friends on July 18. They enjoyed the mini burgers and were all extremely friendly to the restaurant staff.
Cake Boss's Buddy Valastro dined at the Burbank location of Morton's The Steakhouse with several associates on July 18. They enjoyed tuna tartare, shrimp cocktail, and oysters. Buddy also ate a NY strip and the table shared a 3.5lb lobster.
Besties Beth Ostrosky and Katie Lee hit Hamptons magazine Annual Clambake at the Montauk Yacht Club. Beth left hubby Howard Stern at home for a girl's night out and relaxed in the BMW VIP lounge.
Demi Lovato spotted Sunday night wearing "sober is sexy" "the only coke I do is diet" Tshirt leaving the movie at The Grove L.A.
Paula Abdul was spotted shopping at The Way We Wore last Friday in L.A.
Article continues below advertisement
Radio Silence NYC participated in a conference with Usher and his non-profit organization, Usher's New Look. They performed and spoke on a panel with Usher and country star/Celebrity Apprentice winner John Rich.
Susie Castillo at the I AM THAT GIRL charity luncheon in Brentwood chatting with friends. Guest were sipping Leblon Cachaca and nibbling on sushi from Gonpachi
Jake Gyllenhaal grabbing a bite and checking out the Coca Cola Freestyle machine at Farmers Market Freshii in Los Angeles.
Star Jones looked head over heels for her beau Herb Wilson at the Hamptons magazine Annual Clambake at the Montauk Yacht Club as they mingled closely throughout the evening.
Gretchen Rossi drinking VOLI Vodka –Lemon at Hype Nightclub in Los Angeles.
Former Disney star Kyle Kaplan, who currently appears in the ABC Family sitcom 10 Things I Hate About You, came out to celebrate his 21st Birthday at Vanity Nightclub at Hard Rock Hotel & Casino in Las Vegas with a close group of friends on Friday night. Glee's Josh Sussman and Jareb Dauplaise of MTV's The Hard Times of RJ Berger, both also of former Disney fame, came out to celebrate pal Kaplan in the club's VIP section. The boys crowded in the DJ booth with Eric D Lux and sang along to his dance club hit, 'Shots, Shots, Shots."
Socialite Paris Hilton was seen carrying a bag from 98% Angel, a premier children's boutique at the Malibu County Mart.
Khloe Kardashian beat the 100 degree heat and took Lamar Odom's kids to the Malibu Country Mart for slushies. Khloe and kids had so much fun, she even took to posting about her day on her blog.
Gwen Stefani had dinner with a group of friends at Casa Vega on July 16.
Harry Potter star Emma Watson lunched at Casa Vega with friends, and enjoyed Guacamole, Lobster Enchiladas, Beef and Chicken Tacos, and more on July 16.
Real Housewife of Beverly Hills Adrienne Maloof was seen having drinks with the boys of West Hollywood at The Abbey.
Over the weekend, Jesse "The Body" Ventura, Christ Masterson, Ron Jeremy and Radio Host Alex Jones were all seen chowing down on Papaya King's Classic Hot Dogs in Hollywood.
Tommy Mottola and his wife Thalia dined on the porch with family friends on Friday night while Sarah Jessica Parker dined with a friend at the next table at Nick & Toni's in East Hampton, NY.
Jodie Foster was spotted with partner and her son enjoying lunch on the patio at Serafina in East Hampton, NY on Saturday afternoon. The trio enjoyed a signature Serafina pizza.
Kristen Stewart and her sweetheart/co-star Robert Pattinson were spotted chatting up singer and actor Justin Timberlake at Nobu located at Hard Rock Hotel San Diego on Thursday, July 21.
Jenna Dewan-Tatum and Laura Benanti hosted a private dinner at Asia de Cuba of Mondrian Los Angeles with their fellow castmates of the new NBC show The Playboy Club yesterday on Thursday, July 14.
Rachel McAdams and boyfriend Michael Sheen were spotted Wednesday, July 13 having drinks in the BlackBerry Lounge at the Bell Lightbox in Toronto.
Jareb Dauplaise from MTV's The Hard Times of RJ Berger enjoyed signature dishes at LAVO with Kyle Kaplan from the ABC hit 10 Things I Hate About You.
Breaking Bad's Aaron Paul enjoyed Sea Bass, Kobe Tataki and Yellowtail Jalapeno at TAO before hitting TAO Nightclub. After taking in the scene there the group made a late night stop at Marquee.
Last Thursday night, model/TV personality Holly Madison stepped out for a knock-out meal with a lucky man and two other couples at Joe's Stone Crab in Las Vegas.
Breaking Dawn stars Nikki Reed and Kellan Lutz were spotted at the Summit Entertainment party, which took place on the Woodstock outdoor deck at Hard Rock Hotel San Diego.
Neil Patrick Harris was spotted at Santa Monica eatery M Street Kitchen celebrating the premier of the film he directed, The Expert at the Card Table. The How I Met Your Mother star was in great spirits as he relaxed and chatted about the film amongst friends and the crew.
CSI: Miami's Eva LaRue, who is returning to All My Children this summer to bid farewell to the long-running soap opera, stepped out with husband Joe Cappuccio and friends last night to party at Blush Boutique Nightclub at Wynn.