NEWS
Stars Raise the Stakes to Help The Humane Society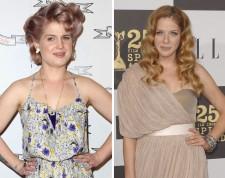 In order to try and help end the seal hunt in Canada, celebrities like Kelly Obsourne and Rachelle Lefevre are helping The Humane Society of the United States by telling the Canadian government what they will do if they agree to stop the seal hunt. These stars are definitely raising the stakes!
OK! NEWS: RACHELLE LEFEVRE TWEETS APOLOGY FOR MISSING NEW MOON PREMIERE
Rachelle, the former Victoria from the Twilight Saga and a native Canadian said, "Canada, if you end the seal hunt I will stand in front of the Parliament buildings wearing a bikini holding a sign that says, 'My country saves young skin!' "
Article continues below advertisement
OK! NEWS: ANNE HECHE'S DIVORCE FINALIZED
Another native Canadian and star of NBC's Mercy, James Tupper is making a claim if Canada agreed to stop, just hoped he checked with the future bride beforehand!
"Canada, if you cancel the seal hunt I will marry Anne Heche and make her a Canadian. And I will be proud of my country for making itself a positive example for change that needs to happen."
Nigel Barker from America's Next Top Model promised, "If Canada cancels the hunt, I'll escort Prime Minister Harper on a trip to remember: to the seal nursery, where the beautiful pups can personally thank him."
OK! NEWS: NIGEL BARKER RELATES TO BALLOON BOY DRAMA
HOWL's Jon Prescott thought of an agreement that would also help The Humane Society.
"I will run a marathon decked out in Canadian maple leaf gear, raising $10,000 dollars to benefit The Humane Society of the United States in the process."
And Royal Pains star Reshma Shetty followed the lead and said, "Canada, if you cancel the seal hunt, I will volunteer at my local animal shelter."