NEWS
Stefano Langone on James Durbin's 'American Idol' Meltdown: "He's a Big Crybaby"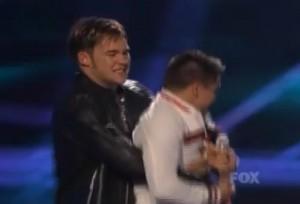 James Durbin took Stefano Langone's elimination from American Idol harder than Stefano. Instead of Stefano needing to be comforted after the show, he had to help "talk down" James.
OK! NEWS: JAMES DURBIN STORMS OFF STAGE AFTER STEFANO LANGONE'S ELIMINATION ON AMERICAN IDOL
"I told him not to worry about me," Stefano told E! News about James storming off the American Idol stage last night. "I did everything I set out to do on this show, and it's going to pay off and I'm going to do great. I told him, 'Just keep focusing on the show and what you gotta do to keep succeeding and I'll be back in a couple weeks.' I talked him down a little bit. He's a big crybaby."
Article continues below advertisement
Stefano and James were roommates since Hollywood Week on American Idol, but Stefano says the "bromance" won't be stopping here.
"He's a brother to me, and I'm going to be his best man in his wedding."
OK! VIDEO: WATCH CHRISTOPH WALTZ MURDER STEFANO LANGONE IN JIMMY KIMMEL LIVE! SKIT
And Stefano is taking his elimination very well — he didn't even want to win!
"When I came out for American Idol I never wanted to be the American Idol," Stefano said, "It was getting my foot in the door of the music industry and taking a step forward in that way. I am so happy about my experience, so thankful for all of this and blessed.
"What I came out here to do, I did it. I succeeded," he explained. "I got to lucky No. 7, and it doesn't really reflect on who I am as a musician or a performer at all. It's a show. That's one thing you've got to remember, it's a show, and now it's time for me to really move forward. There's a wide open crowd and market out there right now, and I'm ready to pounce on it."
"I cannot wait to start this long and successful journey."