NEWS
Stephen Colbert Approved to Form "Super-PAC" By Federal Election Commission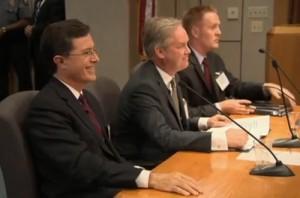 Stephen Colbert's "Super-PAC," or political action committee, has been approved by the Federal Election Commission to not only be formed, but also be promoted on his show The Colbert Report.
OK! VIDEO: ANTHONY WEINER TWITTER SCANDAL GETS THE STEPHEN COLBERT TREATMENT
As part of a skit on his show, Stephen mocked the Supreme Court decision Citizens United v F.E.C. that allowed campaigns to have unlimited amounts of corporate donations by trying to form a political action committee.
Article continues below advertisement
But then the skit became real.
According to The New York Times, the Federal Election Commission ruled that Stephen can promote the Colbert Super-PAC on his show without Viacom having disclosure rules.
But Stephen is only allowed to promote the Super-PAC on his show and not other networks.
"There will be others who say, 'Stephen Colbert, what will you do with the unrestricted Super-PAC money?' " Stephen told reporters after the hearing. "To which I say, I don't know. Give it to me and let's find out."