NEWS
'Suits' Star Sarah Rafferty Reveals Her Thoughts on Donna and Harvey's Relationship and More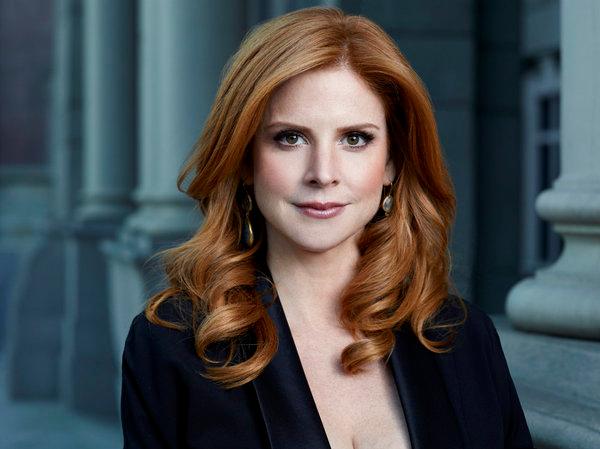 Suits is my TV obsession and, without fail, their finales sneak up on me entirely too quickly (only six episodes for mid-season, USA? Seriously?). With the current cycle coming to an explosive end tonight, there's no better time to catch up with series star Sarah Rafferty, who plays the unflappable and incredibly awesome Donna, to get her take on all the turmoil at Pearson Hardman (ahem, make that just Pearson) and whether or not we'll ever see a Harvey and Donna union.
Article continues below advertisement
A Stylish Series: 'The Mindy Project'
OK!: What can we expect from tonight's finale?
Sarah Rafferty: I don't want to spoil anything, of course. The name of the episode is "War," so I think that's pretty telling that things are a little complicated. Harvey and Jessica are struggling to see eye to eye on things and that's a new dynamic that we're digging into at the end of the season. It remains to be seen how they'll resolve that.
OK!: I'm happy to see that Louis is back in Donna's good graces. Was it fun playing up the conflict between the two of you?
SR: Absolutely! Donna always loves to give Louis a hard time. But in these back six episodes after Louis has sort of betrayed the firm, I think he had to do a little bit of work to prove that he was penitent for his actions and loyal. But I think Donna has always had compassion for Louis in a lot of ways. It was a fun process for her to forgive him and to play that trick on him that he so enjoyed with all of the mug shots around his office, which she was responsible for.
Article continues below advertisement
OK!: Now that Scottie is back in the picture, it feels like Donna is a little jealous and even more protective over Harvey. Will we ever see the two of them together?
SR: I think Donna doesn't think she's jealous. I think Donna's very, very clear that whatever may have happened in the past between Harvey and Donna, she is over it. She's not pining for him, she doesn't want him, she doesn't think they're a match and she's totally satisfied with their relationship the way it is. But I still think that people are more complicated than that. It'll be interesting.
Gallery: Beauty Trends at New York Fashion Week Fall 2013
OK!: Personally would you like to see anything happen between the two of them?
SR: Not any time soon. I never tell the writers what to do because they're pretty great at what they're doing. I'm much more surprised and delighted by what they come up with than what I come up with, I'd definitely leave that in their arena, but as it is right now I really enjoy the relationship that Harvey and Donna have. And I really like that Donna is a very independent person. I'll be intrigued to maybe dig more into her personal life in the next season.
Article continues below advertisement
OK!: At this point even Louis has had a love interest, who would you love to pair Donna up with?
SR: I have said that we should hang out until Mark Ruffalo is available. I like him. I like his quirky charm.
OK!: What's the camaraderie like on set?
SR: It's amazing. We shoot in Toronto and most of us are from LA. There's six of us and we're incredibly close. It's great. We're particularly excited for those moments when it's really hard on the hair and makeup team when we're kind of all there together but it's really fun for us. Sometimes the hair and makeup trailer feels like when you're home on a holiday and you're like, "Why are we all in the kitchen? Everyone's in the kitchen all of the time!" We all want to be in that one room together. It's definitely a family.
A Stylish Series: 'The Carrie Diaries'
OK! The clothes on this show are incredible. Is there any piece of wardrobe that you'd love to steal from set?
SR: Oh my God, there's everything that I'd love to steal from set. I was watching the episode where Hardman is back and Donna gets to slap him, and I looked at the clothes in the scene where I slap him and I got to wear a Dior dress. There was a brief scene where I'm walking down the hall with Louis and there's an amazing Donna Karan skirt and an Armani top. And when I'm standing with Harvey telling him about slapping Hardman I got to wear this eggplant-colored Zac Posen dress that I think was right off the runway. It's crazy what we get to wear. They're such beautiful clothes and our costume designer Jolie Andreatta has done such an amazing job not only getting all of these amazing clothes that are so in fashion and so current right now, but also that really speak to who these characters are. Everybody is dressed all to the nines and everything is high-end and sexy and classy but everybody is very different.
Article continues below advertisement
OK!: What are some of your own fashion must-haves at the moment?
SR: I've been buying a lot of Elizabeth and James. I'm just loving them. They have the textile line which is a good comfy, cozy line for every day. They've got some great jeans. I've worn some pretty Alice + Olivia dresses lately. It's been cold so I've been doing a lot of sweaters and jeans and boots. I love my Golden Goose boots. They're my favorite boots right now. I also love Natalie Martin. She's amazing and a local Los Angeles talent.
OK!: As a mom, how do you balance everything?
SR: I don't! It does not feel balanced. It feels like that moment where everything is falling off the tray, like that in between moment. It's a lot right now. I have a five-year-old and a one-year-old. We live in a state of feeling overwhelmed. I'm on the phone with you right now, I just finished a little meeting and then I'm in the car because I've got to pick my five year old up from school. It's not as graceful as I thought it might be or I would like to say it is. I do wish that I had more moments in my day where I wasn't multi-tasking, where I could just be present. But it's hard. I think probably a lot of moms wish for that. I definitely have my moments where I want to say, "I want my mom! I need my mommy here!" She will be coming to visit when I go back to work in Toronto, I can tell you that much.
Article continues below advertisement
OK!: What would you like to see happen next season?
SR: Donna loves the theater and I think she was a bit of an amateur actress, so I feel like they could incorporate that. They sort of incorporated it in season one when there was a mock trial and Donna played a character and she cried on cue to freak Louis out. I think there are more juicy opportunities in that way for her. But I have been told that we're going to get into her personal life a little bit more so I'm excited to see if maybe a love interest is coming around or maybe we're going to meet somebody in her family. I think that's always a fun, informative thing to connect with the character. It was great this year when Rachel's dad came on, to get to meet him and get some insight into her life and see what makes her tick. I think that would be fun to do with Donna. I also really enjoyed the flashback episode. I don't know if they have any plans to ever do something like that again but I thought that was really fun. It's really fun to go back in time and connect with who these people were then and how that's relevant to who they are today.
Are you psyched for the Suits finale? Tell us what you'd like to see happen next season in the comments below, or tweet us @OKMagazine.