NEWS
Susan Sarandon's Ex Tim Robbins Plans to Record Midlife Crisis Album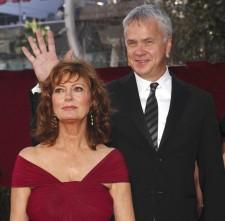 Recently splitting with his wife of 23 years, Susan Sarandon, Tim Robbins has taken to recording music to get through his so-called "midlife crisis."
"I was thinking about calling it 'The Midlife Crisis Album', but then I thought that's not going to sell any copies. Then I thought, 'How about Songs of Love and Misery'?," Tim told the Daily Telegraph via Pop Eater of his plans to release an album this year.
Article continues below advertisement
SUSAN SARANDON ON LIFE AFTER SPLIT
The 51-year-old divorcee credits his newfound interest in singing to going through a period of rediscovery.
"It's when you pass 40, inherently we double our age when we think about life. You start thinking about how many years you've got left. 'What the hell am I doing here?' I asked myself. 'What is it that will make you happy? What is it you have not done that you will regret not doing?'"
SUSAN SARANDON FEELS WONDERFUL
The Mystic River star admits that, "we all go through something, it's inevitable," and hopes that music will make him happy.
Susan and Tim have two sons together and met on the set of Bull Durham in 1988.
Susan has a 25-year-old daughter, Eva Amurri, from another relationship.