NEWS
Susan Sarandon on Life After Split: "It's Exhilarating and Terrifying"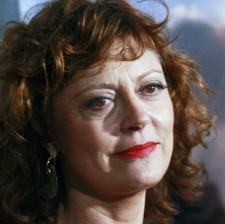 Susan Sarandon talks to Entertainment Weekly about life after splitting from her partner Tim Robbins and where she is now in her life.
OK! NEWS: SUSAN SARANDON FEELS "WONDERFUL"
"I did a movie a long time ago where I had to fly in a glider. You get towed up in the air by a plane, and it's loud and annoying. And at some point you pull the cord and you're suddenly floating, and in your mind it makes absolutely no sense. But it's exhilarating and terrifying at the same time. That's where I am now," Susan tells Entertainment Weekly in their new issue.
Article continues below advertisement
"It's a long time to not be dating and then go back into it. I certainly love the idea of being in love, and I love the idea of companionship. Whatever happens next in terms of romance and partners, I don't know," she admits. "But it's exhilarating and terrifying. I think the point is just keep moving, and to just say yes to life."
OK! NEWS: SUSAN SARANDON 'S MOTHER NIXES TOY BOY TALK
She's also saying "yes" to being called a cougar!
"No," she said if she minds that new title. "I love that!"