NEWS
Take Home Chef Goes on the Road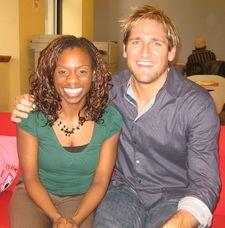 My cooking skills are less than zero, but that wasn't going to stop me from having TLC's Take Home Chef Curtis Stone come sit on my couch. Not only did the handsome Aussie bring treats, he dropped a little TV scoop on the TV Fanatic!
"We're going to do a new show with TLC which doesn't have a title yet, it's sort of a gourmet road trip," Curtis revealed. "It gets me out and about in some of the weird and wacky places in America. It's fun. We haven't quite finished the format, but we should be hitting the air in July."
Article continues below advertisement
Sweet! Speaking of which, let's get back that bag o' treats. "I'm working with Green & Blacks International, which produces this incredible organic chocolate. It fits in well with where I stand with food," Curtis said. "I believe in taking care of Mother Nature and so do they. They have great initiatives that are great for the environment."
Curtis and Green & Blacks are sponsoring a contest at www.greenandblacks.com/us, where adventurous at-home chefs can submit their own creative chocolate recipes. "For every entry, Green & Blacks will donate $10 to the Belize farmers who grow the cocoa beans," shared Curtis. "And if you're one of the five winners, you'll come up to New York and spend the weekend with me. We'll go shopping together at my favorite grocery store, cook together and then go to a big gala sponsored by the James Beard Foundation."
Finally, a real incentive to turn on my stove!
Catch episodes of Take Home Chef daily on TLC.