NEWS
Taylor Lautner Celebrated Last Shirtless 'Breaking Dawn' Scene By Eating Dessert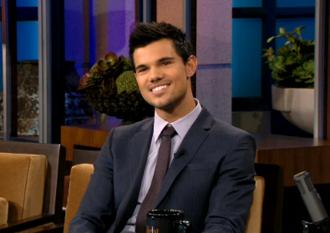 Article continues below advertisement
"I remember my very last shirtless scene of the franchise, and I remember them calling cut," he told Jay Leno. "And I was so happy. It was the happiest I've been in a long time."
OK! NEWS: GQ AUSTRALIA APOLOGIZES FOR TAYLOR LAUTNER GAY QUESTION
After having to eat "boring, bland stuff" to maintain his six-pack, Taylor was more than ready to celebrate the end of his strict diet.
"And I remember going out, we were in Baton Rouge… and I remember going out to eat that night and I had dessert for the first time in forever," Taylor said with a big smile. "I took a few days off from working out. It was amazing!"
"So are you just going to become a big tub of lard now?" Jay asked.
"I gotta try and keep it up a little bit," Taylor admitted.
Watch Taylor's interview over at NBC.com!