NEWS
Taylor Lautner Goes to Jail in New Fantasy Film 'Incarceron'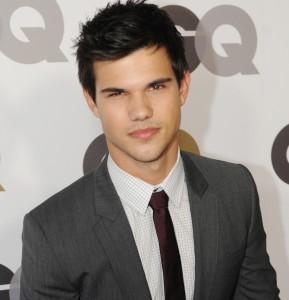 While his co-stars Robert Pattinson and Kristen Stewart are going the more art-house/indie route with their work outside of The Twilight Saga, Taylor Lautner seems to be building — not only his body — but his career as the world's next big action star. Taylor has just signed on to star in Incarceron, the Fox 2000 adaptation of the best-selling young adult novel by Catherine Fisher.
We're sure Taylor will soon miss the (albeit vampire-filled) woods of La Push, though once filming of the dystopian fantasy movie begins. The world of Incarceron is much darker than even the most intense scenes in Twilight.
Article continues below advertisement
OK! GALLERY: GQ MEN OF THE YEAR PARTY IS A VIRTUAL WHO'S WHO OF HOTTIES
Taylor is slated to play the protagonist Finn who wakes up in Incarceron, a violent and vast prison society. Finn has no memories, only the vague idea that he "came from Outside," which his inmates assure him is impossible.
Finn then meets Claudia, the warden's daughter, who is trapped in her own prison: a futuristic 17th century-inspired world where time is forbidden and everything is run by computers.
Claudia is ignorant of everything about Incarceron beyond its existence, but when Claudia and Finn simultaneously discover a crystal key they become able to communicate and begin plotting an escape for Finn.
OK! NEWS: KELLAN LUTZ DECIDES WHOSE ABS ARE BETTER: ROBERT PATTINSON'S OR TAYLOR LAUTNER'S!
Catherine Fisher described Incarceron and its sequel as "the most complex books" she's written. And when it comes to adaptations, as Taylor and Twilight fans well know, it can often be hard to translate everything to the big screen. But if Incarceron stays fairly true to the novel audiences can also expect a contested arranged marriage, a complicated assassination plot, seven skull rings that contain souls, a flying ship, a wall at the world's end and so much more.
And it sounds like we're going to get to see a darker side of Taylor in Incarceron. Catherine has described his character as one "who never quite tells the truth."
Amnesia, trust issues, and those abs?!? Taylor is going to be one beautiful bad boy! It should be fun to see Taylor, who plays the playful counterpart to the moody Edward in Twilight, be the buffed out brooder in this new film.
By Sadie Gennis