NEWS
Taylor & Penn: Screen Siblings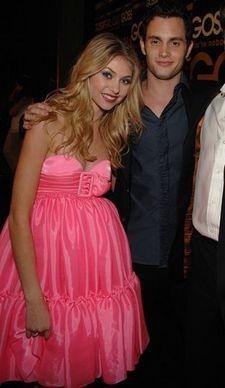 When OK! caught up with the cast of new the new CW show Gossip Girl, we found that on-screen siblings and might as well be brother and sister in real life.
"He's so much fun," 14-year-old Taylor tells OK! about Penn, who plays her older brother on Gossip Girl. "He's like my older brother in real
life." And that brotherly love extends to Penn's being a little overprotective of Taylor. "It's crazy," Taylor explains. "They'll be talking and
Article continues below advertisement
they accidentally cuss. Penn will tell them, 'Uh, don't say that around her.' It's so
cute!"
Taylor, who got her big break at the age of 6, starring as Cindy Lou Who in The Grinch Who Stole Christmas, also talked about working with . "Everyone would laugh because he's so funny, but I never understood any of his jokes, so I just laughed along."
She also had a bit of trouble distinguishing the man in the makeup from the real actor. "I just knew him as the Grinch, so I didn't recognize him at the premiere. I asked my mom, 'Where's Jim?' and she said, 'He's right there.' And I was like, 'No, that's not him.'"