NEWS
Taylor Swift Wins Entertainer of the Year Award Again!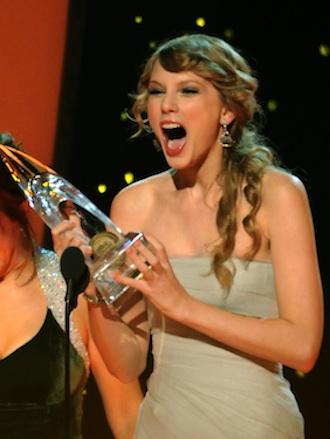 Last night as the 45th annual Country Music Association Awards rocked Nashville, Taylor Swift rocked the vote. That is, she won her second entertainer of the year award! She joins the company of Barbara Mandrell as the only two women in the show's history to earn this honor more than once!
During a backstage interview, as reported by RadarOnline Taylor said, "To win it twice is like the coolest thing ever happening to me twice! I'm freaking out right now."
Article continues below advertisement
Later on she tweeted, "Headed home feeling so grateful and happy and just...Thank you. To the fans who have made this year so wonderful, I just adore you." Here are all of the CMA winners! Entertainer of the YearTaylor Swift Female Vocalist of the yearMiranda Lambert Male Vocalist of the YearBlake Shelton New Artist of the YearThe Band Perry Vocal Group of the YearLady Antebellum Vocal Duo of the YearSugarland Single of the Year"If I Die Young" by The Band Perry Album of the YearMy Kinda Party by Jason Aldean Song of the Year"If I Die Young" by The Band Perry Musical Event of the YearDon't You Wanna stay - Jason Aldean and Kelly Clarkson Music Video of the Year"You and Tequilla" - Kenny Chesney featuring Grace Potter