NEWS
'Teen Mom 2' Stars Jenelle Evans & David Eason Defend Killing Family Dog Nugget In Tearful Video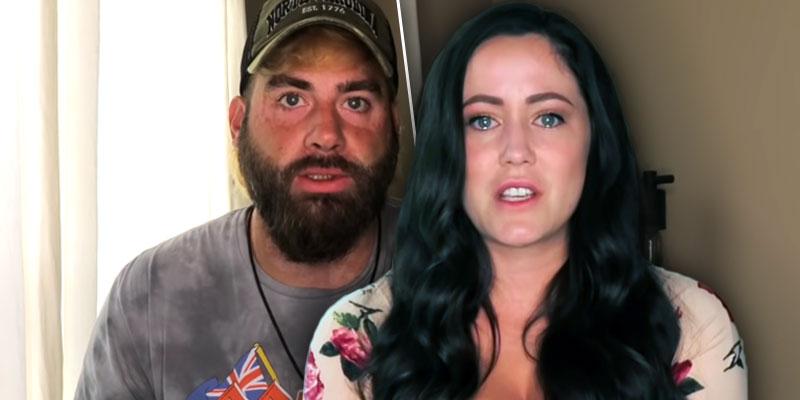 She has something to say! Teen Mom 2 star Jenelle Evans is finally telling her side of the story. In a YouTube video titled, "I Have Something to Say," Evans, as well as her husband, David Eason, and mother Barbara Evans, detail the events of the incident last year- Eason killing their dog and being axed by MTV - in the lengthy video.
In the video posted on August 31, Eason tried to defend himself for killing their beloved dog, Nugget, in May 2019, for biting their daughter - who was 2-years-old at the time - in the face.
Article continues below advertisement
"She was a loving dog to me, but she was not loving toward our kids at all. I loved the dog, the kids loved it. But she didn't love the kids," he explained in the video.
"Anytime we were taking a video of the kids riding their bikes, playing outside, we'd have to delete the video, not even be able to post it because she didn't play nice. She would bite their feet, she would bite the wheels on her bicycle," he said.
TEEN MOM ALUM JENELLE EVANS SINGS 'UNDEFEATED' IN NEW VIDEO AFTER HUSBAND'S ASSAULT CHARGES DROPPED
The 32-year-old said the dog wasn't "always vicious" but that she had a lot of "vicious tendencies." He also stated the dog was "mean" and they "put up with it for a long time."
"I took it upon myself to put the dog down," the pipe welder explained. "A lot of people around here - if your dog goes running in their yard, they'll just shoot it. They're not gonna call you and tell you… That's something I would never do."
Article continues below advertisement
He ended the video by saying he did feel remorse. "I regret it, but sometimes that's the way it works," he said. "I wish it hadn't have to happen that way."
TEEN MOM'S JENELLE EVANS MAKES 'SILLY' VIDEO WITH HUSBAND AFTER HIS RACIST RANTS ON SOCIAL MEDIA
Evans was fired from the hit show Teen Mom 2 in 2019 after Eason shot and killed Nugget. The 28-year-old broke down in tears when discussing getting fired from the show: "You filmed me on heroin… you filmed me talking about stealing my mom's credit cards when I was 17… I did everything I could, and put all the effort I could into this show over the years. And for all of that to be thrown away for nothing," she tearfully said in the video. "Please tell me what I did wrong."
She also called out MTV, claiming that they edited out positive storylines about her and her family. She added that MTV plays "favorites" when it comes to the other moms, citing the fact that costar Amber Portwood is still a part of the show after her domestic abuse case.
'TEEN MOM' STAR AMBER PORTWOOD PULLED OVER FOR 'UNLAWFUL DRIVING' ONE YEAR AFTER ARREST
In July of 2019, Portwood was accused of hitting her baby daddy while he was holding their son - who was one year old at the time - with a shoe. She accepted a plea deal in the case, and the Teen Mom star and her estranged ex have been locked in a custody battle ever since.
Evans and Eason share 3-year-old daughter Ensley together. She also has 11-year-old son Jace with ex Andrew Lewis and 6-year-old son Kaiser with Nathan Griffith.