NEWS
The Stars of MTV's Faking It Talk Their On and Off Camera Love Affair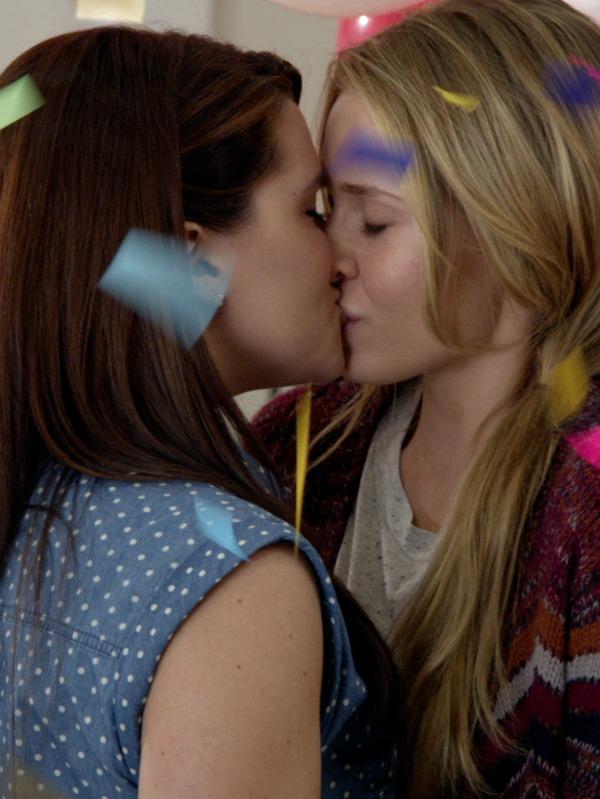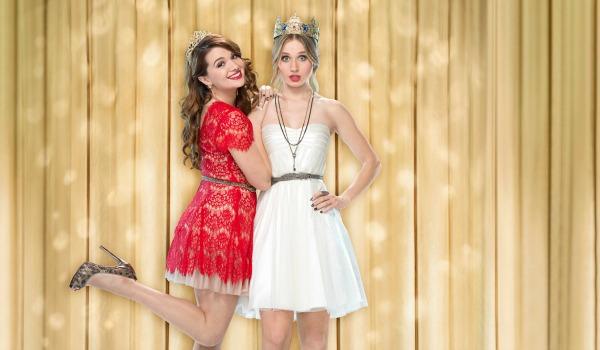 Try to keep this straight, okay? Faking It is a show about two high-school best friends pretending to be lesbians so they'll be more popular, except one of the two is actually in love with the other. In real life, stars Rita Volk and Katie Stevens absolutely adore each other, too (platonically!), and were happy to talk about all that love with OKMagazine.com. The show was just picked up for season two, and the finale airs tonight at 10:30 on MTV. Get to know the gals!
Article continues below advertisement
PHOTOS: See the sweetest Fault in Our Stars fan art.
OK!: Now that we're at the end of the season, can you tell me how the show has changed your lives so far?
Rita Volk: I can say for myself that I definitely feel part of a community that I never thought I'd be a part of. The fans have been so passionate and so loyal. As much as you go into a show wanting that, you can never predict it. Feeling like we contribute to some kind of voice, that's the biggest change. And it's only happened in the past eight weeks!
Katie Stevens: We have this amazing show, and we know how incredible it is when we're making it. I don't think we really realized the fan reception would be as incredible as it is. People are really invested in these characters and their stories.
PHOTOS: See the exclusive pics of Evelyn Lozada's baby boy!
OK!: What has been the reaction from the LGBT community? I know that, at first, people read the description of the show and weren't giving it a chance. Has that changed?
Article continues below advertisement
Rita: We had support from the very beginning. If people watched the ending of that pilot, they realized the show is going to go in a totally different direction, not just using the concept of two lesbians to sell a show. It really is about the friendships, and one girl developing feelings for another girl. I think people realize that it is genuine and heartfelt. A few people have come up to us and said, "I'm so glad this is something that's on TV. When I was in high school, I realized I was gay or I was a lesbian because I developed feelings for my best friend." I got this one letter from a girl who said she'd been bullied and she was trying to figure out what her orientation was, and this show was her happy place. It's been very positive. We've been so lucky.
Katie: I feel the same way. Of course, I don't play the character that is gay, I'm the one that's actually faking. That was something going in that I was nervous about—how my character would be received. I knew people would be upset with my character, because she doesn't realize Amy is in love with her. It's frustrating as a viewer. Even though I get the angry Karma tweets, it's awesome because people are seeing her side of it as well. We have an incredible show runner, too, who knows what our fears were going in.
Article continues below advertisement
OK!: What can you tell us about the finale?
Katie: Everyone is left with a cliffhanger. What you think is not what it seems.
PHOTOS: Check out Kylie Jenner's total beauty transformation.
OK!: Will feelings come out?
Katie: There is a preview that shows Amy confessing her feelings, but you don't know what the reception will be. People will have to watch to find out!
Rita: There will be some mistakes that are made by some characters. I don't know how much I can say! Everything basically unravels. I'm saying this because the last episode we got some hate! People were like, oh, why didn't Karma and Amy kiss? What's going to happen?! They want that resolution. All I can say is it ties up... okay, it doesn't really tie up... there is a cliffhanger! Everyone's storyline unravels.
Katie: You're definitely going to want more. The tables turn, for sure. It can't just be left for episode 8.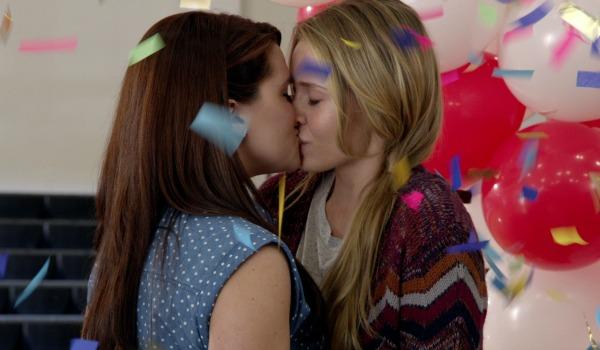 OK!: It's not a typical will-they, won't-they couple. You know someone's going to get hurt. Is there any possible way for these girls to have a happy ending?
Rita: I think we would have to wait for Karma's story line to develop more. I know there's a lot that the writers want to do with Karma, and developing her story. She's obviously very into this boy. In the perfect world, I'd love for them to end up together, and so would the fans. Everybody loves this relationship. At the end of the day, the most important thing is that these girls can preserve their friendship. It's a show about their friendship.
Article continues below advertisement
Katie: Having no frame of reference for season two, we don't know what will happen with these characters. Like Rita said, you can't label these characters as being one thing or another. The fact that they aren't together is keeping the evolution of the story. It would be the end of the show if they immediately wound up together. They're still discovering if that's what they want.
PHOTOS: Celebrities who are open about their breast-feeding.
OK!: It feels like everyone has kissed everyone on this show. How do you guys break the tension? When every kiss is loaded with so many levels of subtext?
Rita: Hopefully Amy doesn't wind up kissing Lauren, that would be a little awkward. We had a kissing party! We all got together before the pilot and made out. laughs I don't know, Katie, you want to take this one?
Katie: I should take this one, because I kiss everybody. It's one of those things, as an actor, that you're just going to have to do. You're going to kiss people on screen. We all like each other and it's genuine and we've all gotten to know each other. So I think that's how our chemistry comes across. I've become very close with Rita and Gregg Sulkin. When our characters have to kiss, the show is based around those moments. When Rita and I had our kiss in the pilot, we knew that was going to be the framework for the rest of the season. We had to practice beforehand to get the giggles out.
Article continues below advertisement
Rita: It stems from us having good chemistry. It stems from the environment that Executive Producer Carter Covington has created, because we have such a loving cast and crew. Everybody has respect for each other, and we love what we do.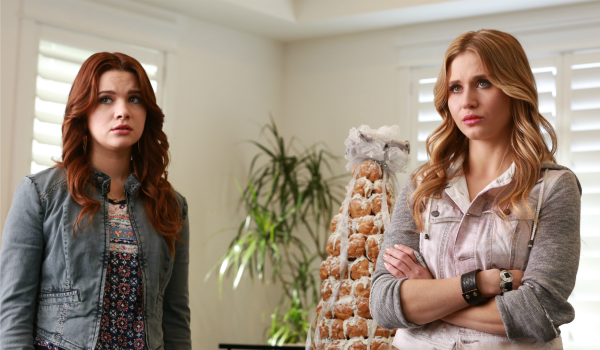 OK!: How did you two bond? You seem to have natural connection.
Katie: Yeah, Rita, how did you bond with me? laughs
Rita: laughs I think it definitely helps when your costar is a good person, and I thank my lucky stars every day—
Katie: You are so nice! I love you, too!
Rita: We met in the audition room. We were sitting next to each other and we said, Look. Whatever happens, happens. Usually you go into an audition room and everyone's staring you down. It was just the kind of person that I am, and the kind of person that Katie is, that we clicked. Obviously, we didn't know we'd be on the show together, we thought we were competing. During the screen test, she was cute and funny and really sweet. I'm going to talk about her like she's not here. they both laugh She's special and has a lot of great values. She was raised right.
Article continues below advertisement
PHOTOS: Celebrities who should never have tried playing sports.
Katie: You're going to make me cry!
Rita: And also, I think the biggest thing, just being friends with her, we both want everyone to be happy. We want everyone to get along. Part of our friendship just rests on that. We want to be supportive of each other. We want the show to do well. We're going through this together, and I can't imagine going through it with anyone else. I feel very, very lucky.
Katie: Absolutely! And not just because she said all of those beautiful things. When I got the call, I asked, "Who got Amy?" In the back of my mind, I was like, "Please say Rita, please say Rita!" I was so excited it was the two of us. I got her number from Carter, and was texting her like, "We're going to play best friends! Let's start being best friends." We went to dinner together, got to know each other, talked about boys. We are the same in that we come from loving backgrounds, and immigrant families. Rita's family is from Uzbekistan, my family is from Portugal. They came here to have us have a better life, and we're living out our dreams.
Watch the finale tonight alongside Fifth Harmony! The girl group loves the show so much, they'll be live-tweeting it. Follow along with @FifthHarmony.
Have you been watching Faking It? What do you hope happens between Amy and Karma? Will you be watching season two? Tell us in the comments below or tweet us @OKMagazine.