NEWS
There's No Place Like Home for Jay Leno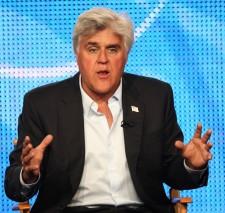 Jay Leno returned to the Tonight Show Monday night, channeling Dorothy from The Wizard of Oz who wakes up safe and sound in her own bed after her bizarre adventures.
Kevin Eubanks and Ross "The Intern" Mathews crowded around his bed as Jay came back to consciousness from his "dream" — in which he hosted a failing prime time talk show and pushed Conan O'Brien out of NBC — to host the show.
Article continues below advertisement
Betty White also made a cameo, commenting on the drab décor of the barn.
A few things have changed in Jay's absence: His new set is full of color and modernity but after going desk-less in The Jay Leno Show, he was forced to find a new one for Tonight.
OK! NEWS: BETTY WHITE VOLUNTEERED TO DO A NUDE SCENE
The Chin traveled around Burbank door-to-door to find a new one, interviewing Randy Jackson, and Adam Corolla in neighbor's living rooms until he found a desk that was just right.
In his monologue, Jay admitted that he was nervous about his debut "because I know Dave Letterman and Oprah Winfrey are watching."
OK! NEWS: JESSICA SIMPSON SLAMS JOHN MAYER'S SEX TALK ON OPRAH
And while Conan is under a NBC joke-gag, Jay has no such restraints. In regards to Olympic skier Lindsey Vonn, he said, "When it comes to going downhill, nobody's faster, okay, except NBC."
Jamie Foxx was the first guest, opening a bottle of champagne and spraying the audience to celebrate Jay's return.