NEWS
This Week's OK! Magazine Cover Story: Kim Kardashian, Obsessed With Plastic Surgery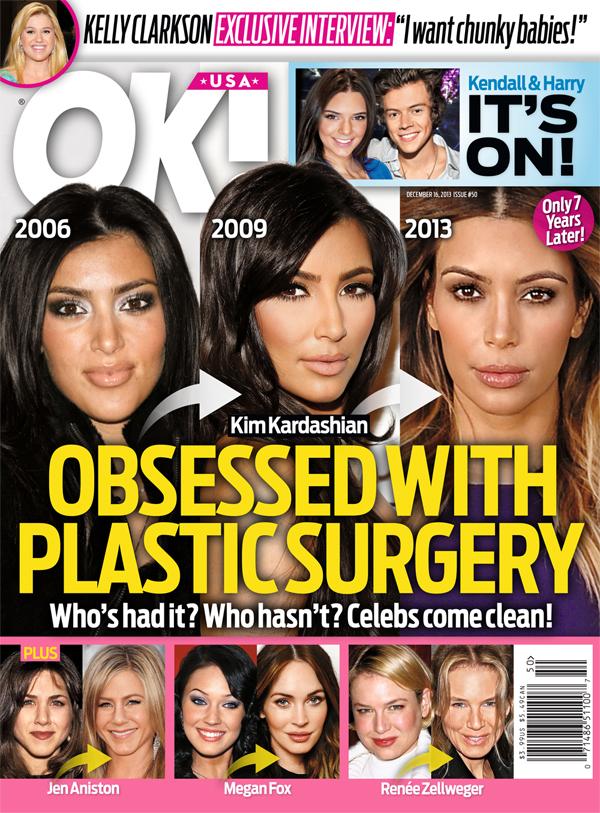 Make sure to pick up this week's issue of OK! Magazine! Can't make it to the newsstand? Don't worry! You can download it right HERE. It's available on virtually every platform including iPad, Kindle, Nook, Google Play, Magster & Zinio. Even better, it costs ONLY $1.99 (that's 50% off the newsstand price)!
Here's what you can expect this week:
Mom-to-be Kelly Clarkson tells OK! "It's a very selfless job, being a parent."
Hollywood is addicted to plastic surgery: See the before and after pictures of Jennifer Aniston, Kim Kardashian, Angelina Jolie and more.
The truth about the heart-shaped island Angelina Jolie secretly bought for Brad Pitt.
Why Kate Middleton is dreading Christmas with the Royal family this year!
It's puppy love! Inside Kendall Jenner's hot date with One Direction's Harry Styles.
Exclusive Interview: Faced with jail time, RHONJ's Teresa Giudice is trying to stay focused on her family.
How do you like to read magazines? Do you have a digital subscription yet? Download HERE and tweet us @OKMagazine.
Article continues below advertisement