NEWS
Tiger Woods: Fourth Mistress Finds a Lawyer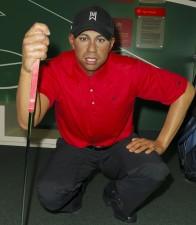 After last week's golf club spat between Tiger Woods and wife Elin Nordegren regarding his affair with the alleged Rachel Uchitel, more than three women have come forward claiming to have had relations with the pro golfer, including a fourth who TMZ reports has already lawyer-ed up.
Similar to Rachel Uchitel, who immediately hired celebrity attorney Gloria Allred to defend her case, the new mistress has brought Michael O'Quinn on board in order to have her story heard properly according to TMZ.
Article continues below advertisement
When Nordegren originally found text messages of the affair between Uchitel and Woods, it allegedly sparked a disagreement between the pair that ended in a car crash outside of their Windermere, Fla. home over the holidays.
Just a few days later, even more women have come forward claiming to have been intimate with the married man.
Now, the fourth woman, a cocktail waitress, is declaring that she and Tiger began seeing each other in Orlando back in 2004 and continued to secretly visit the golfer for two years according to TMZ.
Despite rumors of multiple adultery claims, Tiger's wife Elin plans on staying with the father of her two children pending certain monetary conditions and an immediate change in their prenuptial agreement.
Elin reportedly is asking for some seven figures to remain married to Woods and won't budge on her requests.