NEWS
Tila Tequila Tweets About Death of Fiancee Casey Johnson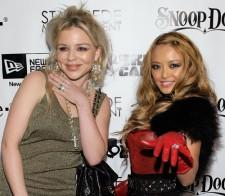 UPDATE:Police in Los Angeles have confirmed the sad news. Our hearts go out to Casey's family and loved ones...
For her part, Tila writes:
"R.I.P my Angel. @caseyjonsonJnJ u will forever be in my heart! I love u so so much and we will Marry when I see U in Heaven my Wifey"
___________________________
EARLIER UPDATE: Things have just gotten stranger.... If you believe Tila, Casey is not yet dead. The reality star just Tweeted the following: "I just got news that my fiance is not dead but currently in a coma!!! Omg please pray that she will make it! Hang in there my love please!!!"
Article continues below advertisement
Followed very shortly by: "I know u can feel me Casey! Dot let go! I'm almost home baby please hang on! We have a beautiful life planned out for us! I LOVE u! Hang on!"
___________________
ORIGINAL ITEM: Following the announcement that her fiancée, Johnson & Johnson heiress Casey Johnson had been discovered dead at the age of 30 on Monday morning, Tila Tequila expressed her grief in the best way she knows how — on Twitter.
Tweeted Tila to her more than 275,000 followers:
"Everyone please pray 4 my Wifey Casey Johnson. She has passed away. Thank u for all ur love and support but I will be offline to be w family"
OK! has reached out to the LAPD for further information regarding Casey's death and will update as news comes in.