NEWS
Tim Gunn Calls Martha Stewart's Daughter "Dismal"; Padma Lakshmi "Lovely"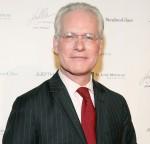 Project Runway's beloved mentor Tim Gunn is taking his advice out of the workroom and onto the red carpet, calling out celebrities for bad behavior in his new book.
The outspoken fashion guru shares what he's learned about success in the workplace and forming personal relationships in Gunn's Golden Rules: Life's Little Lessons for Making It Work, including the importance of manners.
Article continues below advertisement
"But let me tell you this fabulous story. She sent me the loveliest, longest handwritten letter and this gorgeous box of chocolates, saying, 'Oh my God, I'm so embarrassed. I'm so apologetic.' It was lovely of her. I was completely disarmed."
What are his thoughts on Martha Stewart and her daughter Alexis? "You know, I have great respect and affection for Martha Stewart. It's really about her dismal daughter.
Article continues below advertisement
OK! NEWS: MICHAEL KORS REVEALS PROJECT RUNWAY'S WACKIEST PITCH
"When I was at The Daily Show two weeks ago, the producers told me that when Martha was there, she came with Alexis and that's exactly how Alexis was in the green room. She had this profanity-laced Tourettes.
"She was saying all these horrible things about her mother, who was right there, and her mother wasn't responding at all, acting as if she was deaf."
OK! NEWS: TIM GUNN DISHES ON NICOLE KIDMAN'S PROJECT RUNWAY APPEARANCE
Tim also reveals that he wasn't paid for his first two seasons of the hit fashion competition in which he stars. "Until I met my agent, I didn't know anyone was paid," he reveals.
"I met my agent at an awards dinner. We were both sitting at a Project Runway table, and he asked me who represents me and I said, proudly, 'No one. Why?' And he said, 'Well, who's negotiating your contract?' I said, 'Well, I just sign whatever is put in front of me.' "
Article continues below advertisement
OK! EXCLUSIVE: THREE QUESTIONS WITH TIM GUNN
Meanwhile, the famously single silver fox, whose last relationship ended in 1982, says he may have changed his stance on romance, admitting that he's not totally against dating again.
"I'm interested," Tim concedes. "Am I looking? No. I would never say I'll never get into another relationship, but I will share this with you: I feel like I haven't graduated from psychoanalysis because I choke when I feel like I'm approaching intimacy with another person."
OK! NEWS: HOW NEW MOM PADMA LAKSHMI GOT HER BODY BACK
"It has to do with reliving the breakup of my first serious relationship because it was so horrible. It was just excruciatingly horrible, and I had to keep working with the guy. But things happen for a reason. If we'd stayed together, I would never have moved to New York."
While Tim is famous for his measured personality, he reveals he wasn't always so balanced, even trying to kill himself after realizing he was gay.
OK! NEWS: HEIDI KLUM IS HAPPY TO BE A WORKING MOM
"I think that's what led to my suicide attempt. I was disgusted at who I was afraid of becoming," he admits. "Today, there are so many more role models for gay teens and young adults. I'm proud to say I hope I'm one of them."
Does Tim have a final tip to really make it work? "Take the high road. You will never regret it. No matter how much anger and strife you feel you're facing, no matter how badly you want to lash out, don't do it. You'll never regret taking the high road. There isn't one single time that I've lashed out that I haven't deeply regretted it."