NEWS
Today We're Loving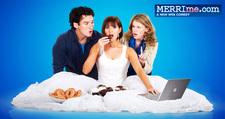 Looks like 90210 hottie Ryan Eggold is looking for love on Merrime.com!
This new web comedy gives a hilarious look at cyber-love in the 21st century as Meredith Weisman (Kaily Smith) struggles to find love online after finding out that her fiance is a cheating, scumbag, bastard!
With her father's (Tom Arnold) ultimatum to find a job, Merri realizes that the key to her survival is not a career, but a man. And so, the race to the altar begins as she is forced to plunge headfirst into the deep end of the online dating pool. Watch and find out who Merri will date next... in her words, OY.
Article continues below advertisement