NEWS
Today We're Loving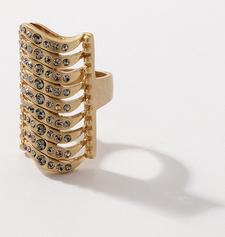 Lia Sophia's Petra Collection 2008 is bringing a new meaning to bling. OK!'s favorite is the Etruscan ring with black diamond crystals & matte gold. Cameron Diaz and Mary Kate Olsen are also fans of this amazing ring.
Moet & Chandon champagne has created a pop up boutique in NYC until Dec. 30 that allows for the perfect holiday gift. What better way to gift someone than with a Swarovski crystaled Moet bottle. Worried that you aren't in NYC, people outside of the city can get it done as well, you just have to coordinate shipment with a wine store in NYC since the boutique can't sell bottles directly.
Article continues below advertisement
Sheryl in Charlotte, N.C., is loving Waitress, which is out on DVD right now. She especially loves Keri Russell.
E-mail Loving@ok-magazine.com to share what you are loving.