NEWS
Toni Braxton Reveals Sister Tamar Is Expecting A Boy At Backyard Boogie Baby Shower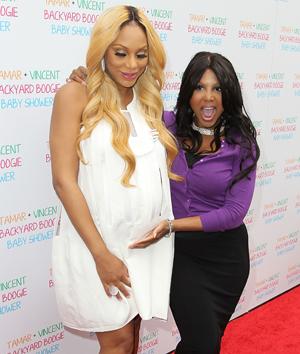 If you've ever watched Braxton Family Values then you'll know how crazy the musical family is, but also how much they truly adore each other.
And the love was definitely flowing on Sunday afternoon at the baby shower of Tamar Braxton who is expecting her first child this Spring.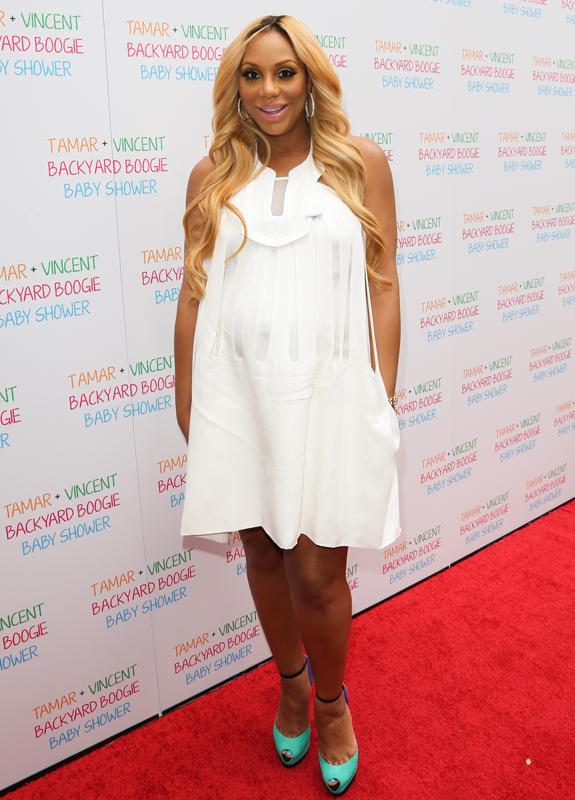 Tamar Braxton looked glowing at her baby shower held at Hotel Bel Air, California on Sunday
OKMagazine.com was in attendance at the carnival-themed, "Backyard Boogie Baby Shower" at Hotel Bel Air where rapper T.I. and wife Tiny came along to show their support as well as family matriarch Evelyn and sisters Towanda, Traci and Trina. Trina turned up wearing a fluffy pink onesie which caused Tamar to question, "What the hell are you wearing?"
Article continues below advertisement
Tamar's older sister and musical sensation Toni Braxton let slip that the mommy-to-be is in fact expecting a boy with husband Vincent! The event was filmed as part of the second season of the couple's WE TV reality show, Tamar & Vince.
OK!: Tamar is so outspoken, how do you think the baby is going to be?
Toni Braxton: He's going to be the opposite of Tamar. It's a boy so I think he's going to be more like his dad. A little bit more laid back and reserved.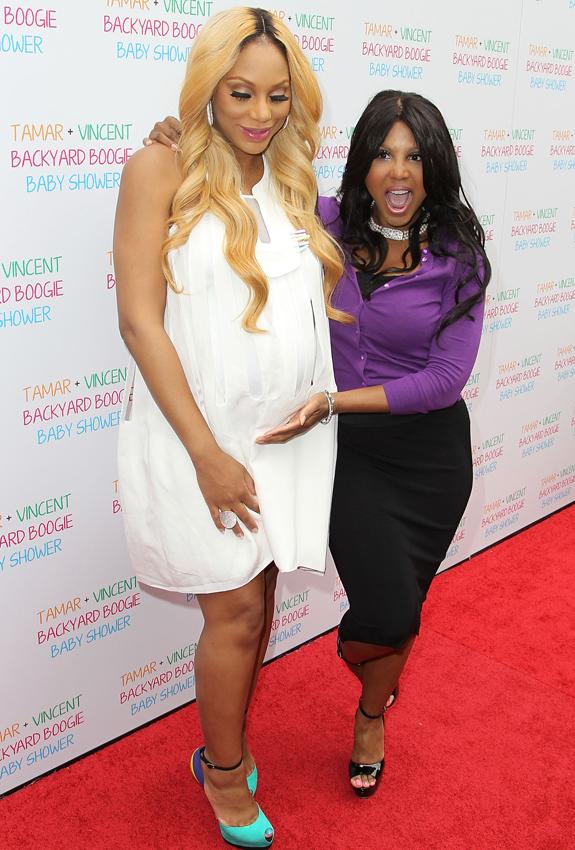 Toni Braxton has been dishing out lots of advice to the first time mommy-to-be
OK!: How excited are you to be an auntie again?
TB: I'm excited. This is the last one, the last of my sisters having a baby so I'm really excited out of all of them that it's Tamar because she kept saying she didn't want to be a mom but I knew deep down inside she would eventually change her mind. It took a little longer than we thought but it's here.
Article continues below advertisement
OK!: Your sisters say you give a lot of unsolicited advice – what parenting advice have you given to Tamar?
TB: It told her that motherhood is the most fun you'll ever have but the perpetual fatigue you will always have and don't push yourself too hard to try and be this perfect mother because you'll make a lot of boo boos but just have fun with it. And get some good bras because your boobies will sag, and you can buy yourself some new one but in the meantime get some good bras.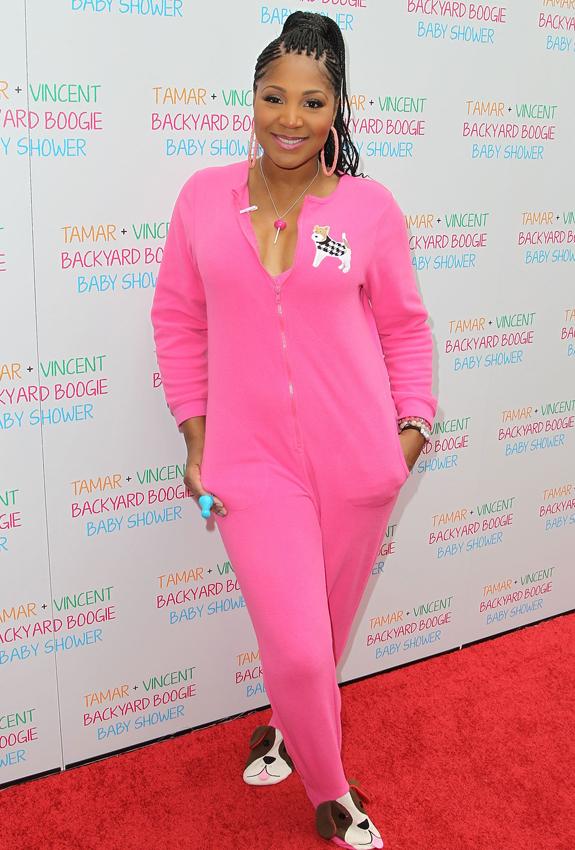 Trina Braxton came to the Backyard Boogie Baby Shower wearing a pink onesie!
OK!: What advice do you have for people trying to get bikini ready?
Water helps, people say that no one can drink all of that water – 8 glasses a day, yeah right. But if I need to lose like that extra five pounds, a lot of fruit and vegetables. I'll have that burger for dinner but all day I'll have fruit and vegetables. I try to do it raw so I can eat bad later.
Article continues below advertisement
OK!: What's all this we hear about you retiring from the music industry?
TB: Yes it's what I'm feeling, I'm here, my mom says I'm a little depressed, we'll see. In the meantime I want to do more acting. There's a Lifetime movie I'm in talks to do so I'm excited about that. But I have been thinking about music because I'm really fortunate to have a lot of really great people around me. Babyface has been reaching out, Anita Baker who is my idol has called me and was like, 'What are you doing? It's not time, no way, I've felt that way but no.' Apparently everyone's gone through this, it's normal, you got to get through it. You have to push yourself and make yourself do it so we'll see.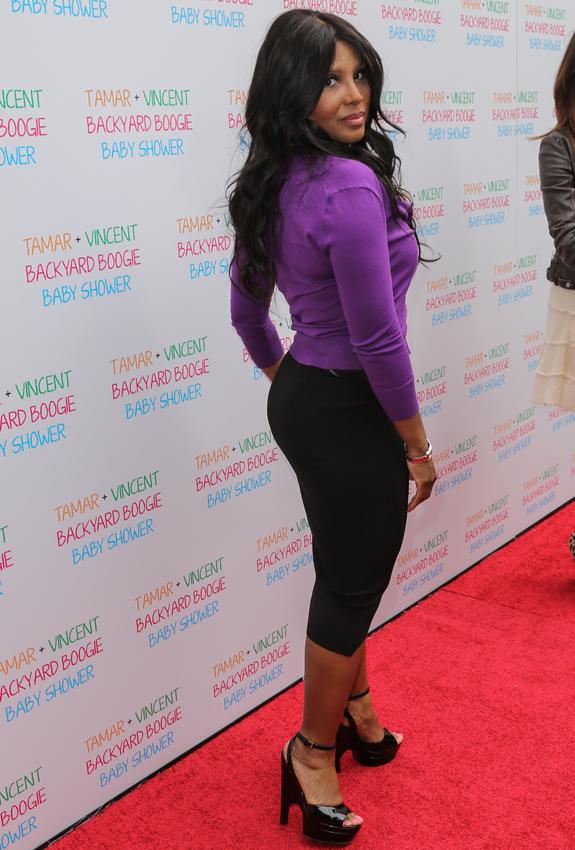 Toni rocked it out on the red carpet but confirmed she's taking a break from music
Tamar also shared what she's most looking forward to most in becoming a mom and her crazy cravings!
OK!: What are you most looking forward to in becoming a mother?
Tamar Braxton: I'm looking forward to the changes. I don't know what's to come so I'm just looking forward to the change and just trying to figure out how I'm going to figure it out. I think it's going to be exciting.
Article continues below advertisement
OK!: What cravings have you had?
TB: Salt. I love potato chips, I'll do anything for a potato chip, I'll tap dance, I stand on my head and spin nickles for a potato chip. I love potato chips.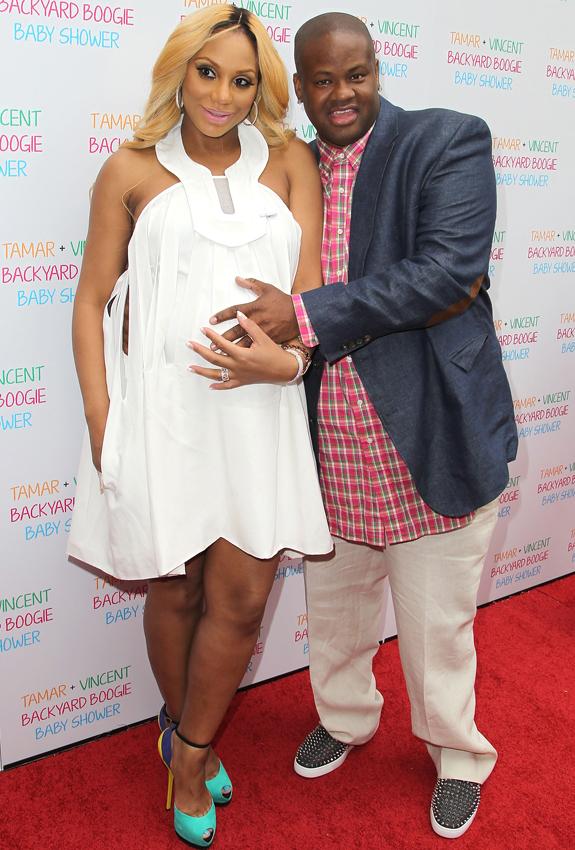 Tamar and Vincent will welcome their baby later this Spring
OK!: What advice has your sisters given you regarding becoming a mom?
TB: First of all Toni Braxton is the number one person who thinks she knows everything. So she won't let me lift things and she wants me to wear flats all the time she's going to have a fit about these shoes right now but I don't care.
OK!: You look great, have you been conscious of the baby weight gain?
TB: Yes God! (laughs) I went to the doctors and I gained 50lbs so far! Devastated! (laughs)
Tamar's new single The One comes out this Tuesday so look out for that and Braxton Family Values airs Thursdays at 9/8c on WE tv.
What's your best piece of parenting advice for mommy-to-be Tamar? Tweet it to us @OKMagazine!