NEWS
Tracy Morgan on Drinking & His Son: "I Disappointed Him"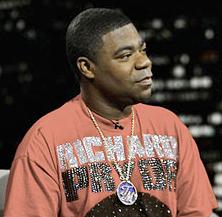 Tracy Morgan appeared Tuesday on PBS' Tavis Smiley to discuss his new film Cop Out and revealed that his son has inspired him to hold himself to a higher standard than he had in the past.
OK! NEWS: TRACY MORGAN SLAMS SNL IN TELL-ALL
After Tracy was charged for driving under the influence he suffered many consequences that have majorly impacted his life.
"I had fun. Nobody got hurt. But I hurt me," Tracy explained to Tavis. "I thought I was winning. And I lost my family. I lost a 21-year-old marriage. And that just made me go, 'Wait a minute.' You know, I'm walking around with a bracelet on my ankle and my son looking at me like I'm Kunta Kinte, like, 'What'chu doing, Dad? What if I start driving and drinking? Would that be cool?' And that was it for me. That was the end of it."
Article continues below advertisement
"My son said, 'What if I start driving drunk and kill somebody?' And right there just made me look in the mirror like, 'I gotta step up my game.' So I did," Tracy added. "And I'm glad it came from my son, I love him. He saved my life - again. Because before, I was on a street corner in Brooklyn hanging out, just hanging out. Then I had these kids and they gave me responsibility and grow up and become a man. So again, there he was, to rescue me."