NEWS
Tracy Morgan Returns to Nashville to "Help And Not Hurt" With Apology for Homophobic Standup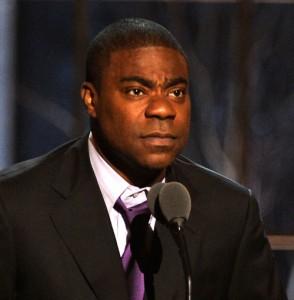 Article continues below advertisement
He told reporters, via Entertainment Weekly, "I just wanted to take this opportunity to help and not hurt."
His apology went as follows:
"I apologize to ... the people that were at the show," he said, via The Hollywood Reporter. "I want to apologize to my friends and my family and my fans, and everyone in every community who were offended with this. I don't have a hateful bone in my body. I don't believe that anyone should be bullied or just made to feel bad about who they are. I don't care who you love, same-sex or not, as long as you have the ability to love."
After an audience member witnessed Tracy's June 3 anti-gay tirade and documented his disgust with the a Facebook note, fallout against Tracy exploded on the Internet, prompting and gay advocacy groups like GLAAD, as well as NBC and 30 Rock stars Tina Fey and Alec Baldwin to express their disappointment in the comic.
Ever since, Tracy has been very aggressive with his efforts to apologize by meeting with gay youth in New York City.
He also told Russell Simmons in an interview, "The truth is, if I had a gay son, I would love him just as much as if he was straight … I might have to try to love even more because I know of the difficulty that he would have in society."
Tracy will also participate in GLAAD's upcoming "Amplify Your Voice" PSA campaign.