NEWS
Trista Sutter On Her Relationship With Ryan, Staying Fit and 'The Bachelor'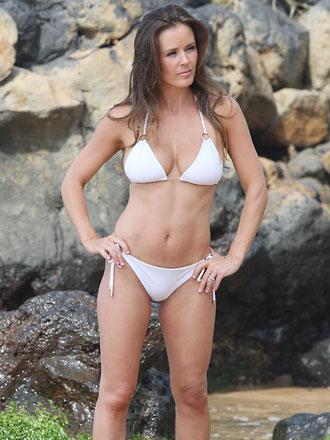 This former Bachelorette star has the cutest relationship ever with her hubby AND a killer figure! Can you say, has-it-made?
If you're wondering how Trista Sutter keeps up with her kids and still manages to look like a diva, we've got all your answers on her diet and exercise regimen. And we're not going to tell you she doesn't eat carbs—she actually loves bread and sandwiches!
Trista isn't one of those stars who claim to cut all the sweets out of their lives cold-turkey. Trista says she doesn't avoid all sweets (she has a sweet tooth!) but uses moderation to her advantage.
Article continues below advertisement
"I'll let myself eat something sweet, but just on a lower scale. So maybe I'll have two cookies instead of five or one cookie instead of five. Smaller portions. That sort of thing," says Trista.
Want a Trista tip? She found a vegan and gluten-free tub of ePastry cookie dough from Costco and says it is pretty good! So maybe you can have your cake and eat it too.
When it comes to exercise, Trista loves to keep her muscles guessing, regularly incorporates interval training and has joined an Insanity Challenge Group that is filled with ladies that share their progress and encourage one another to keep on track. Trista also uses Ab Core, a product available at Walmart, to complement her own personal fitness plan.
"It just gives you the right kind of vitamins to be able to get your body primed to burn the fat more efficiently," says Trista.
Article continues below advertisement
TIERRA LICAUSI'S MOST TIERRABLE MOMENTS ON THE BACHELOR
OK! even got some commentary from Trista on the current season of The Bachelor! Good news, Sean. Trista thinks you're doing a great job!
"In terms of what's happening and what has transpired and what he'll do with it afterwards, I just am excited for him to find the right now. I think he's got great girls, great quality girls left and great connections with each of them it seems. I'm really interested to see who it will be," she says.
Who do you want Sean to give the final rose to? Do you read Trista's Bachelor blog?
Tweet us your answers @OKMagazine, comment below and make sure to follow Trista on Twitter and Instagram, both @tristasutter!