NEWS
Try This Pumpkin and Butternut Squash Soup for Chanukah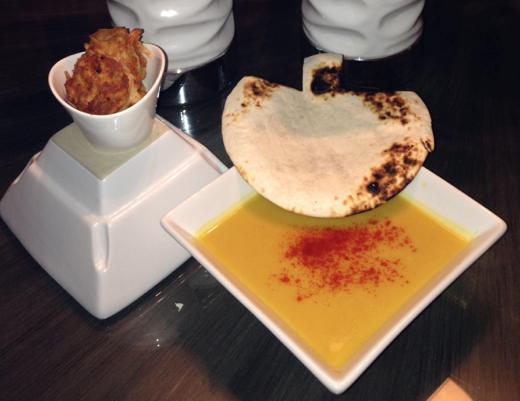 Personal trainer and certified nutritionist Franci Cohen dishes up a pumpkin and butternut squash soup with latke croutons that is the perfect dish to add to your Chanukah table. Even better, you probably already have the ingredients at home after your Thanksgiving feast!
OK! News: We Found a Great Use For Leftover Butternut Squash
Spiced Pumpkin and Butternut Squash Soup with Grilled Dreidel Tortillas and Potato Latkes Croutons
Article continues below advertisement
Soup
Ingredients
2 tablespoons butter
1 large sweet onion, diced
3 garlic cloves, minced
2 tablespoons finely grated fresh ginger
1 medium-size butternut squash, peeled and cubed (about 1 3/4 lb.)
1 small pumpkin, peeled and cubed (about 1 3/4 lb.)
1 large sweet potato, peeled and cubed
1 large Granny Smith apple, peeled and cubed
1 (32-oz.) container low-sodium chicken broth
2 bay leaves
1 1/2 teaspoons red curry paste
1/2 teaspoon black pepper
3/4 cup whipping cream
1 tablespoon fresh lime juice
Salt and pepper to taste
Directions
Melt butter in a large pot. Add onion and sauté 8 minutes or until onion is golden and caramel in color.
Stir in garlic and ginger, and cook 1 minute.
Add squash, next 7 ingredients, and 4 cups water. Bring to a boil, reduce heat to medium-low, and simmer 20 minutes or until vegetables are tender.
Article continues below advertisement
Remove from heat, and let stand 30 minutes, stirring occasionally. Remove and discard bay leaves.
Process soup, in batches, in a blender until smooth. Return to pot and stir in cream.
Bring to a simmer over medium heat; stir in lime juice and season with salt and pepper to taste.
OK! News: Candace Cameron Bure Spills On Those Full House Reunions
Potato Latkes
Ingredients
1-1/2 pounds russet potatoes peeled
2 large eggs, lightly beaten
2 tablespoons instant mashed potato flakes
1 teaspoon paprika
Salt and pepper
Vegetable oil for frying
Directions
Peel and grate the potatoes.
Line a sieve with cheesecloth and transfer potatoes to the sieve.
Set sieve over a bowl, and twist cheesecloth into a pouch, squeezing out some moisture.
Let mixture drain for 15 minutes.
After 15 minutes, pour off liquid from the bowl but leave the white potato starch that settles in the bottom of the bowl.
Article continues below advertisement
To that starch add eggs, flour, 1-1/2 teaspoons of salt, paprika, freshly ground pepper. Return drained potatoes to this mixture and toss to combine.
To Fry:
In a large skillet heat 1/4 inch of oil over medium high heat until hot.
Drop spoonfuls of potato mixture into skillet (using a melon ball scooper), and cook for 3 to 4 minutes a side (or until latkes are golden and crisp on both sides).
Serve soup with dreidel tortilla and potato latkes croutons, and enjoy! The textural variation between the crunchy latkes and the soft tortilla offer 2 nice complements to the warm creamy soup.