NEWS
Tuesday Night TV Roundup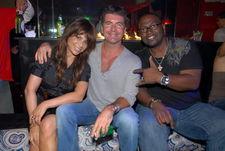 OK!'s Julie Gerstein, Derek Ivie and Rana Meyer break down your fave shows of the night!
American Idol: As is usually the case at Idol tryouts, some hopefuls soar like eagles, while others…not so much. And then there's Alberto Hurtado. Hurtado arrived at the San Diego tryouts replete with flowing locks, gnarly overlong fingernails, and hippie chic caftan top (with an eagle illustration!) ready to work his spiritual magic. His mission? To prove that he's American Idol's biggest fan. Apparently that required a very literal visual metaphor in the way of a ginormous gold fan, emblazoned with the words, "American Idol's number one fan." We get it, Alberto.??
Article continues below advertisement
The only trouble? Judge-y judges Paula, Randy and Simon weren't particularly interested in hearing Alberto's self-penned autobiographical tune, and stopped him before he could get all the way through. This irritated Alberto, who in turn chided Simon for interrupting him. Did he make it through to Hollywood? Hell no. "Sometimes I get lost in my imaginations," said Alberto. We do too, buddy, we do too.– Julie
The Biggest Loser - Couples: Right after voting off the White team the couples are told that they most vote for who they want to vote off right now. They are given one hour to discuss. Some teams go by strategy, others by the biggest threats and others by numbers. The team that had the most votes were the divorced couple Paul and Kelly. Of course, this process was dramatic and there were tears and it took up the first half hour of the show. Jeez! It turns out that the Yellow team wasn't getting voted off the show, but they were actually now facing all of the other teams at the weigh in. Paul and Kelly chose Jillian as their trainer for the week and the other teams were given Bob by default. At the challenge all of the teams went against the yellow team in a race of sorts. Whoever could cross the pool on the balance beam and get 12 pegs in a board first would win letters from home. Kelly and Paul kicked butt, but decided to give everyone else their letters instead of them receiving theirs. Smart strategy n their part, non? Earlier in the episode Paul had put on some crazy karate outfit, costume, not sure what it was, to tap into his warrior-or-die spirit. When he running across that balance beam they were showing him in the outfit and they put karate noises in the background. This was possibly the best part of the episode. We learn later that the Blue, Yellow, Orange and Purple teams are in an alliance; they want to throw the weigh-in by chugging water and Paul and Kelly will send Black team home. At the weigh-in Paul and Kelly beat the average of the other teams. But the best laid plans often go awry. Their plan to vote of the Black team was foiled when host Allison told them that whoever was the biggest loser would have immunity, and of course, it was the black team. Paul and Kelly finally, after about a 10 minute speech from Kelly, voted off mom and daughter team Bette-Sue and Allison. Take care ladies! Luckily, the gals did great on their own and look fantastic, and Bette-Sue still has her crazy hair YES! – Derek
Article continues below advertisement
One Tree Hill: That Lucas Scott is not acting like a good guy right now. He has this great girlfriend Lindsey, who obviously adores him. And she needs to go back to NYC for business, so he decides to attend Brooke's store opening with Peyton, as friends of course. But then toward the end of the night when Peyton is flirting with the cute bartender, Lucas whispers into her ear, "He's not good enough for you." That is just so wrong on so many levels. First of all, because of Lindsey, and then to Peyton, don't lead her on like that. Then we also had to deal with the arrogant Jason who is being played by Kevin Federline, who actually isn't as bad an actor as he was a rapper. That's not to say he'll be winning an Academy Award anytime soon, I'm just saying. He fronts this band that Peyton is managing and now Haley is producing and he is just full of attitude. That doesn't last for long though, since luckily the girls notice the amazing talent of the shy keyboardist and boot his butt out of the band. As for another formerly shy character, Mouth, he is still hooking up with his boss. But in the end, he decides that he just does not want to be used any longer. However, when he goes to Alice's office to tell her that, she implies that she's considering his audition tape for a weekend reporter spot. Oh no, Mouth, don't do it. Don't sleep with her to get the job! We all know that this one isn't going to turn out well in the end. – Rana
What did you think of the line-up? Let us know!