NEWS
Tweet Repeat: Niall Horan Visits Barcelona, Wendy Williams Sends Congrats and Kendall Jenner Dines With Her Dad!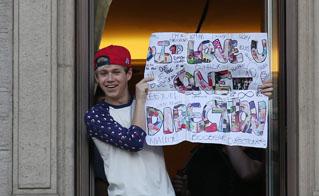 Welcome to Tweet Repeat, your daily dose of the best celeb anecdotes found on Twitter. We've scoured the site looking for the funniest, weirdest, goofiest, deepest, craziest, sweetest, most intriguing thoughts of the day, from the most intriguing people on the planet internet.
Kellie Pickler took home the Mirror Ball trophy last night on Dancing With the Stars and fans have been busy in the Twittersphere chatting about her victory! Stars like Wendy Williams and Carrie Underwood have also joined in by tweeting their excitement for the country singer. One Direction has also been a popular topic as the boys are performing in Barcelona tonight. Check out today's Tweet Repeat below to see what else your favorite celebrities have been buzzing about!
Article continues below advertisement