NEWS
Nina Dobrev on Ian Somerhalder's Desire to be in 'Fifty Shades of Grey': "I Bought Him the Book"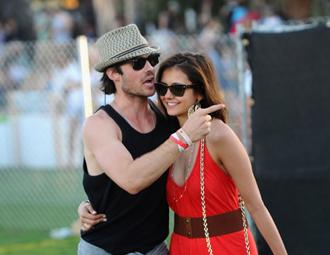 Ian Somerhalder recently confessed that he would "absolutely be up for" playing Christian in the movie adaptation of the best-selling novel, Fifty Shades of Grey, and thankfully, his girlfriend and Vampire Diaries co-star Nina Dobrev supports him.
OK! met up with the beautiful Nina at her Got Milk? ad unveiling at the Hearst Tower in NYC and she let us in on a little secret — she actually bought Fifty Shades of Grey for Ian!
Article continues below advertisement
OK! GALLERY: IAN SOMERHALDER & NINA DOBREV SHOW OFF THEIR ROMANCE IN NYC
"I haven't read the book," Nina confessed to OK! adding that she "has no idea what it's about."
"In fact, as a joke — well who even knows if it was a joke, maybe he'll get it — I bought Ian the book, when I was at the airport the other day because everywhere I go, everyone's asking me about it!"
Nina admits that she has heard about Ian's desire to be in the film, but really doesn't understand all of the fuss considering she's not following the hype surrounding the E.L. James' erotic novel.
"I don't even know the book, but I know there's a lot of sex or something," Nina confessed, questioning Ian's interest in the movie. "Which I guess is why people are excited... since he's Damon."
Ian stars as a sexy vampire, Damon Salvatore, in The Vampire Diaries, while Nina plays the innocent human Elena Gilbert, who is trapped in an epic love triangle with Damon and his brother Stefan, played by Paul Wesley.
Article continues below advertisement
OK! NEWS: THE VAMPIRE DIARIES SEASON FINALE RECAP: ELENA IS A VAMPIRE?!
But, as many of you TVD fans know, Nina's human days on the hit CW show are over! Spoiler Alert! The season finale, which aired on Thursday, set up next season to bring a lot of changes to Mystic Falls... considering Elena is now a vampire!
"Elena's whole arc this season has been Elena discovering how little humanity is left in her life," Nina told OK!. "She's kind of sick of people dying and she just wants to be normal."
Well Nina, normal may not be the right word!