NEWS
'Vampire Diaries' Recap: Damon Tells Elena He Loves Her & Then Sleeps With...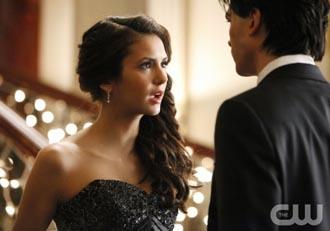 This week's episode of The Vampire Diaries started with a ball and ended with a bang (literally). In another big twist of the season, Damon (Ian Somerhalder) finally tells Elena (Nina Dobrev) he loves her, in which she replies "that's the problem." OUCH! 
But let's be honest, would the old Damon sit around and sulk if he got rejected by a girl? Nope. So, it appears Damon has in fact found his mojo and is ready to go back to his old ways — starting by sleeping with the new blonde in town... Rebekah (Claire Holt). 
Article continues below advertisement
That's right, in one of the sexiest scenes in the show's history, Damon rocks Rebekah's world. 
And while this little "meeting" is taking place, Elena is busy trying to get her true love Stefan (Paul Wesley) to admit his feelings for her, although as we all know, he can't allow himself to do that considering he "hates himself" for what he did to Elena, you know, he bit her. Stefan says he can't turn his emotions back on because then he'll only feel pain. What a sob fest. 
OK! NEWS: VAMPIRE DIARIES STARS NINA DOBREV, PAUL WESLEY AND IAN SOMERHALDER GET STEAMY FOR THE COVER OF EW! 
Anyway, did we mention the episode began with a ball? Yup, the original family throws a dance in honor of their clan reconnecting after all those dead, long years. And in actuality, Esther (Alica Evans) is truly hoping this occasion will "connect" her children by more than blood. 
Klaus' (Joseph Morgan) mommy dearest is back from the dead and although she told her family they would be together again, she means they'll be together in their grave, which Elena discovers when she privately meets with the matriarch at the ball. 
Article continues below advertisement
Stefan decides to help her get to Esther by knocking Damon out (come on, Damon would never let Elena go see the crazy lady alone), and keeps an eye on him while Elena finds out Esther's plan. Esther tells Elena that her children are "an abomination" and that she has no choice but to destroy them, since she's the one who created them in the first place. That's when Esther asks for the doppelganger's blood, which she'll put in the champagne, and tells Elena that during her toast, if they all sip their drinks, Klaus, Rebekah, Kol (Nathaniel Buzolic), Fin (Caspar Zafer) and Elijah (Daniel Gillies) will be unknowingly linked, so that if one dies, they all die. Wicked mommy, right? 
Meanwhile, Caroline (Candice Accola) and Klaus are getting a bit closer, after he buys her a pretty dress and escorts her to the ball. But money can't buy you class in Caroline's mind, and she lashes out on Klaus, saying he'll never be able to have a real relationship if he doesn't takes the time out to get to know someone. Point taken, considering Klaus ends up leaving a drawing of Caroline and pony (if you didn't know by now, Klaus is very good artist), which reads, "Thank you for your honesty." Caroline swoons a bit, it's weird. 
Article continues below advertisement
OK! NEWS: VAMPIRE DIARIES RECAP: KLAUS TELLS STEFAN AND DAMON TO LET ELENA GO, BUT WILL THEY? 
And how could we forget another swooner, Rebekah, who may have ended her night with Damon, but started it out flirting with the one human in town, Matt (Zach Roerig). Now Matt may have been returning the affection in the beginning, but when Rebekah's brother Kol decides to break his hand at the party, he changes his feelings about the vamp. These originals are not team players! 
What did you think of last night's episode? Share your thoughts!