NEWS
'Vampire Diaries' Star Michael Trevino Says Getting Rid of Joseph Morgan "Would Be Tough"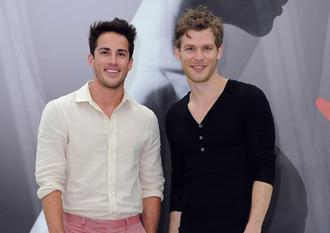 As all you Vampire Diaries fans know, Klaus may not be dead, but he's no longer appearing on the show in the form of British hunk, Joseph Morgan. In the season finale, Klaus' soul sets up shop in vampire-hybrid Tyler's (Michael Trevino) body, which will make for a very exciting and dramatic season four.
So, is Joseph off the show forever? Michael shared some insight into this dilemma with Access Hollywood at the Monte Carlo TV Festival in Monaco today.
Article continues below advertisement
"I'd have to say, it'd be really tough to get rid of Joseph Morgan on our show, I would imagine that he'd be back in some capacity real soon," Michael revealed.
As for what Klaus will be up to next season, Michael says he has no clue what's going to be happening with any of the characters, including Klaus or Tyler.
"We don't know," Michael said. "I mean, at this point, honestly, because Klaus is in Tyler's body, we don't know what's gonna happen when Klaus gets back into his body. We don't know where Tyler's gonna be or what his fate is gonna be at that point."
But, if writer Julie Plec picks up where she left off, Michael assumes Caroline (Candice Accola) — Tyler's vampire girlfriend — will be the object of Klaus' desire.... again.
"One would assume that if you're Klaus and you're in Tyler's body, you're going to take advantage of that, and maybe make a play again at Caroline because you've been trying so hard to steal her from Tyler," Michael said. "I would imagine in the first episode something like that's gonna happen."
MORE ON:
the vampire diaries
Article continues below advertisement
As for what it's like playing a brand-new character after portraying Tyler for three seasons, Michael says he's rolling with the punches and figuring it out as he goes.
"I told myself not to imitate how Joseph Morgan plays Klaus. I think it was more of a just 'keep it real subtle' and what I can tell from Joseph, as anyone who watches the show sees, he's really focused in and very direct with whoever he's doing the scene with," Michael explained. "So I took that note and kind of just ran with it and sprinkled my own little Klaus mannerisms in there… Just a little flavor. He's a Brit. I want to throw my little swagger in there."
Are you pumped for season four of The Vampire Diaries?