NEWS
VIDEO: Alexis Neiers Says Lindsay Lohan was Crying in Jail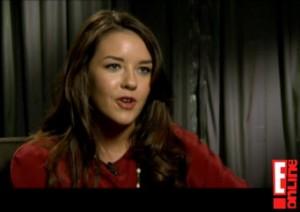 Article continues below advertisement
"Crying. She was crying," Alexis explains. "I could hear her. "
OK! NEWS: PRETTY WILD STAR ALEXIS NEIERS RELEASED EARLY FROM JAIL
"I could start hearing like what was going on in there, I tried to just, really just keep to myself and the last thing I really want to hear, you know, when you're trying to be so strong and just get through the day," she says. "I mean, the days are so long in there, you're woken up at 5:30."
"She was crying," Alexis adds. "She was talking to deputies and, you know just trying to — I couldn't really like make it out, but from what I saw the first day, I mean, she was lying in there and just trying to like calm down."
OK! GALLERY: LILO ACTS CALM DESPITE "FLIPPING OUT" BEFORE COURT APPEARANCE
Alexis didn't have contact with Lindsay as they were both in protective custody, but Alexis says Lindsay did receive some special treatment.
Article continues below advertisement
"I mean, she got to keep her extensions in and everything, which, most of people don't, and the girls were like, 'Ah, they had to take my weave out and cut it all out and,' you know, stuff like that."
But she was dressed like everyone else.
"She had her head down when she walked by and she was in oranges, just like us."
OK! NEWS: LINDSAY LOHAN'S THOUGHTS ON JAIL TIME? "EEEKS"
"I wish her the best, honestly, but you know, it's all up to your mindset, and I don't know what her mindset is in there," Alexis says of Lindsay. "And I mean, from what I understand, like you know, she was having medical attention and she was just trying to get — I'm sure she was just trying to get through the days. I mean, it's hard."
For more of Alexis' interview with E! News tune in tonight at 7 and 11:30 p.m.