NEWS
VIDEO: Bill O'Reilly Says Jen Aniston "Is Destructive to Our Society"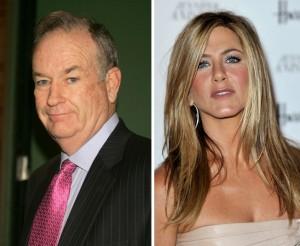 While making the media rounds earlier this week for The Switch, Jennifer Aniston told reporters that women don't have to have a man to start a family or be a good mom. Bill O'Reilly respectfully disagrees. "She's throwing a message out to 12-year-olds and 13-year-olds that, 'Hey you don't need a guy. You don't need a dad,' he said on The O'Reilly Factor. "That is destructive to our society."
OK! GALLERY: 10 HOLLYWOOD COUPLES STILL GOING STRONG AFTER 10 YEARS
Article continues below advertisement
Bill debated the issue Jen raised of single motherhood with FOX News contributor Margaret Hoover and FOX News anchor Gretchen Carlson, suggesting teens wouldn't understand the difference between a 40-year-old woman being a single mother compared to a teenager.
"She is glamorizing single parenthood," Gretchen agreed with Bill.
OK! VIDEO: JEN ANISTON OPENS UP ON MOTHERHOOD
The Switch tells the story of a woman who decides on being artificially inseminated to start a family as a single mom. So naturally, Jen has been asked many baby questions about her own plans to start a family being that she is a single woman.
"Women are realizing more and more that you don't have to settle, they don't have to fiddle with a man to have that child," Jen had said (via PopEater). "They are realizing if it's that time in their life and they want this part they can do it with or without that."
OK! NEWS: JENNIFER ANISTON — STAYING FRIENDS WITH AN EX IS POSSIBLE
Bill believes Jen's comments are inappropriate.
"Jennifer Aniston can hire a battery of people to help her. But she can't hire a dad," Bill argued. "Dads bring a psychology to children that in this society is under emphasized. Men get hosed all day long in the parental arena."
Article continues below advertisement
"Any man who leaves their children is not a man," he added. "Let's make that perfectly clear. But the fathers that do try hard are under appreciated and diminished by people like Jennifer Aniston."
Watch the latest video at <a href="https://video.foxnews.com" mce_href="https://video.foxnews.com">video.foxnews.com</a>
Since this debate was one-sided, Bill is offering Jen an invitation to come on the show and defend her position.