NEWS
VIDEO: Howard Stern: Jay Leno is a "Lap Dog" & "Makes Me Want to Vomit"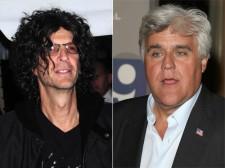 Howard Stern has been harboring some deep-seated negativity toward late night TV host Jay Leno. "Just the mere mention of Jay Leno's name makes me want to vomit," Howard told Harry Smith on CBS' Early Show this morning. "I don't like this guy. I don't disguise it."
"Probably what irritates me the most is people in show business are afraid to say how much they dislike the guy, but I am not," Howard continued.
Article continues below advertisement
OK! NEWS: THERE'S NO PLACE LIKE HOME FOR JAY LENO
Looks like Howard's loyalty lies with Conan O'Brien in the wake of the NBC late night TV war.
"Jay completely sabotaged him," the Sirus XM radio king ranted. "By going on at 10 o'clock, they gave Jay all the best guests, it took away all of Conan's excitement and thunder... Jay is a lap dog... Jay should have dusted himself off, gone to another network. He certainly had the offers."