NEWS
VIDEO: Kelly Ripa Says, 'No One's Getting Lucky on Valentine's Day'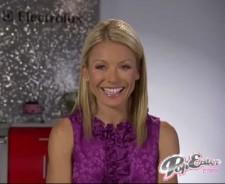 Valentine's Day isn't just about being with the one person you love, it's about being with everyone you love — according to Kelly Ripa! Kelly and her husband Mark Consuelos enjoy spending Valentine's Day with their entire family rather than just the two of them. "It's going to be hot," Ripa tells PopEater in an exclusive video. "It's going to be a group Valentine's Day."
Article continues below advertisement
"We let them pick the restaurant, and we take them out to dinner," Kelly tells PopEater. "We get chewy, decadent desserts. And this year we'll be with my parents, so we're taking them out to dinner."
"We've had enough of them Valentine's Days on our own. The kids grow up so fast; we'll have our own one day. One day, when they go off to college, it will be the two of us saying, 'Let's have a grown-up Valentine's.' "