NEWS
VIDEO: Michael Douglas Says "It's a Stage 4" Cancer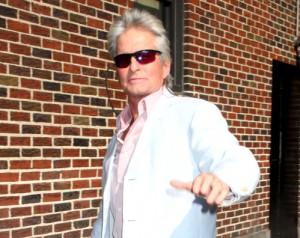 Michael Douglas appeared on the Late Show With David Letterman Tuesday night and opened up about his battle with cancer. "It had been bothering me for a while... In early summer, I had a really sore throat," Michael said, explaining how his now stage 4 cancer was detected. "And I actually went through a litany of doctors and tests and they didn't find anything."
OK! GALLERY: WALL STREET: MONEY NEVER SLEEPS STARS STEPS OUT IN CANNES
Article continues below advertisement
After spending the summer with his family, Michael went back to the doctor: "A guy told me to say 'ahhhh' and he said, 'Let me just take a little clip of that.' And this all happened within three weeks, and I got a biopsy and they analyzed it – it's a stage 4, which is intense, and so they've got to go at it…"
OK! NEWS: MICHAEL DOUGLAS BATTLING THROAT TUMOR
"Now when you said 'stage 4,' I heard someone gasp," David said to Michael, referring to an audience member. "Now, is stage 4 where you want to be or where you do not want to be?"
"Um, no. No, you like to be down at stage 1… but it has not — the big thing you're always worried about is it spreading, so I am head and neck," Michael explained. "I am above the neck, so nothing's gone down, and the expectations are good… "
OK! NEWS: GLENN CLOSE TELLS MICHAEL DOUGLAS TO STAY "POSITIVE"
The Wall Street: Money Never Sleeps star said he has finished his first of eight weeks of radiation and chemotherapy, which impressed David.
Article continues below advertisement
"I mean, you've never looked better to me and this proves that you're a tough guy, for God's sake," the host said.
"Let's just say I'm pretty lit up — I'm pretty lit up right now," Michael replied, confirming that he is in some pain.
OK! NEWS: SHARON STONE'S 'BASIC INSTINCT' IS TO SUPPORT FRIEND MICHAEL DOUGLAS
Michael said his throat is "sore. It hurts a lot. It comes in waves, David. My heart goes out to all the families and all the supporters, and now I understand it."
The actor admitted to smoking and drinking in the past and explained "this particular type of cancer is caused by alcohol and drinking."
"Wow, boy, I feel like I want to do something for you," David said at the end of their interview. "Can I do something for you?"
"Ahh, give me a hug," Michael said.