NEWS
VIDEO: Nikki Reed — "I Love Taylor Lautner So Much"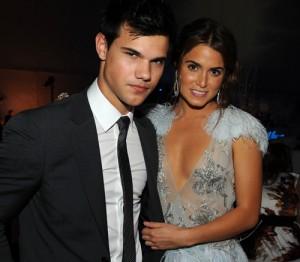 If you don't have anything nice to say, don't say anything at all. Well, Nikki Reed only has nice things to say about her Twilight co-stars — especially Taylor Lautner — and decided to share them all!
OK! GALLERY: KELLAN & NIKKI HEAT UP L.A.
Nikki spoke with MTV News about all the projects her co-stars have had the opportunity to work on since the Twilight Saga films launched their careers.
But the star of the upcoming film Last Day of Summer couldn't pick just one project she's looking forward to seeing, so she just went ahead and listed them all!
Article continues below advertisement
"All of them. I love Taylor Lautner so much, and I'm so proud of him and what he's doing, Nikki said of the Abduction star. "He's making a great movie in Pittsburgh right now."
OK! VIDEO: NIKKI REED'S READY TO FIGHT FOR ROSALIE'S BREAKING DAWN MOMENT
"I'm excited about Rob Pattinson's movie Water for Elephants," she added. "I think he's going to be phenomenal in that, and Kristen Stewart is doing an amazing film On the Road."
"Elizabeth Reaser just did a movie called Homework with Michael Angarano, who's a really good friend of mine," Nikki said of Kristen's ex-boyfriend. "And Emma Roberts that I'm excited about."
OK! VIDEO: NIKKI REED REVEALS ROSALIE & BELLA'S BREAKING DAWN BOND
But when asked if she's ever want to direct a music video for Twilight co-star Jackson Rathbone's band, 100 Monkey's, that's when Nikki got really excited!
Article continues below advertisement
"Would I ever! Jackson and I are on the phone every other day, because we're trying to find a movie to do together. I forgot to mention him — his band is skyrocketing. It's amazing," she said. "I would be honored. I don't want to take the position: 'Would I ever.' If he would ever let me, yeah. I love them."
OK! NEWS: BREAKING DAWN SET TO FILM IN VANCOUVER AND LOUISIANA
And as much as she loves her Twilight co-stars, they love her.
"We all root for each other," Nikki explained.