NEWS
VIDEO: Oksana Speaks Out on 'Today' Through Her Lawyer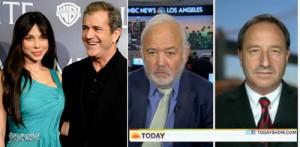 Oksana Grigorieva may be keeping quiet herself during her case against her ex Mel Gibson, but her lawyers are speaking out on her behalf. Oksana's got a few things she'd like the public to know: She didn't leak the tapes of Mel and did not extort him.
OK! GALLERY: OKSANA'S ATTORNEY JOURNEYS
The Today show was taken over this morning by Oksana's lawyers, Daniel Horowitz and Martin Garbus, who were ready to defend Mel's "terrorized" ex.
Article continues below advertisement
"She's a domestic violence victim, she was beaten, she was terrorized, and yet all the media seems to focus on is whether she extorted Mel Gibson, when in fact it's just the opposite," Horowitz said. "This has never been about money, there's no chance in my view of anything even close to extortion… This is what happens to domestic violence victims, they're vilified, and we're trying to set the record straight."
OK! NEWS: JODIE FOSTER ON MEL GIBSON — "I HOPE I CAN HELP HIM"
But that doesn't mean that Oksana recorded Mel so the public could hear the tapes.
"Anybody who is beaten or threatened has a right to document it," Horowitz explained. "Otherwise it's Mel Gibson, one of the biggest superstars in the world against this lone woman. Anyone who says she did this in exchange for money is a liar. They'll pay a price. Those are worth a million to whoever leaked them and she is broke. She tried to hold back any negative publicity about Mel."
Article continues below advertisement
However, the attorney suggests someone else leaked the tapes.
"Many people had access and we have strong suspicions as to where they leaked from. Along with the letters we think we know who leaked them, what we can do, I don't know."
OK! GALLERY: MEL GIBSON GETS CLOSE TO THE EDGE OF DARKNESS
And the lawyers want the public to know that Oksana is "her own woman."
"She also attended the Royal School in London and Trinity. This is a woman who has a life of her own, which is not a part of Hollywood," Garbus said. "She is not someone who is being accurately portrayed in the media. She is a woman of stature and accomplishment."
And part of that accomplishment, as they pointed out, is that Oksana is featured on Josh Groban's album, Awake.
OK! NEWS: MEL GIBSON CRASHES MASERATI IN MALIBU
So for now, Oksana has to wait to find out what happens in her Mel custody case over their 10-month-old daughter, Lucia.
"The district attorney's office is in the driver's seat," Horowitz said. "He Gibson has to be brought to justice for what he did."