NEWS
Jodie Foster on Mel Gibson: "I Hope I Can Help Him"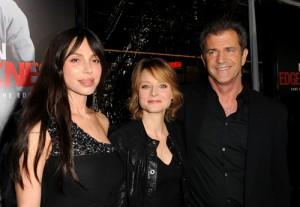 Jodie Foster is a loyal co-star. Despite Mel Gibson's most recent struggles, Jodie says she will stand by him and hopes she can help him.
OK! GALLERY: MEL GIBSON GETS CLOSE TO THE EDGE OF DARKNESS
Jodie Foster's upcoming film, The Beaver, co-stars Mel as her suburban husband and toy-company CEO who saves himself from depression by putting a beaver puppet on his hand and using it to speak.
Jodie explains in the new issue of MORE magazine that the film has been an "enormous, enormous, enormous emotional challenge for me," The challenge came down to finding the right tone for the film, which deals with "how close we all are to mental illness and what you have to give up in order to save yourself."
Article continues below advertisement
OK! NEWS: MEL GIBSON CRASHES MASERATI IN MALIBU
And as challenging as the film was for Jodie, it got even harder after the film was finished. Tapes surfaced of her co-star Mel reportedly yelling obscenities at his ex-girlfriend and mother of his baby daughter, Oksana Grigorieva. The news launched a debate on whether Mel and Jodie's new film could ever be released.
Before the tapes were released, Jodie had said Mel was the "easiest, nicest person I've ever worked with... The second I met him working on 1994's Maverick, I said, 'I will love this man for the rest of my life.' "
OK! GALLERY: OKSANA'S ATTORNEY JOURNEYS
And she stills feels the same way after the scandal telling MORE, "When you love a friend, you don't abandon them when they are struggling."
"Of course, Mel is an undeniably gifted actor and director, and The Beaver is one of his most powerful and moving performances," she added. "But more importantly, he is and has been a true and loyal friend. I hope I can help him get through this dark moment."