NEWS
VIDEO: Top Drunken Celebrity Moments Caught on Tape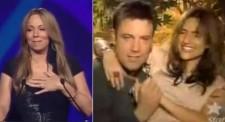 In honor of St. Patrick's Day, PopEater put together the top 12 tipsy celeb videos. From Mariah Carey giving a a sloppy acceptance speech to Ben Affleck being a little too friendly with an interviewer, celebs all have their moments just like we do!
OK! GALLERY: WHEN THE EYES OF IRISH STARS ARE SMILING...
PopEater pulled the best drunken celeb videos for your enjoyment on St. Patrick's Day and as a reminder to try not to end up on YouTube like these celebrities did!
Article continues below advertisement
OK! NEWS: MARIAH CAREY BLAMES SPEECH ON LEE DANIELS AND CHAMPAGNE
Mariah gave a sloppy acceptance speech at the Palm Springs International Film Festival and she was well aware of it! Mariah acknowledged, "And please forgive me because I am a little bit... um."
Warning: Some racy content in this Ben Affleck video! Ben may gotten a tad to inappropriate with his interviewer.
David Hasselhoff's tipsy moment was a little sad. He was struggling to talk and eat, while shirtless, off his floor.
Britney Spears talked to Kevin Federline about whether Back to the Future could actually happen.
OK! NEWS: JOHN STAMOS — "I WAS DRUNK"
John Stamos blamed his questionable moment on jet lag.
Paula Abuhl had a hard time getting her point across during a TV interview.
For the other six celeb videos check out PopEater!