NEWS
VIDEO: Vienna on Jake — "I Just Wanted Him to Love Me"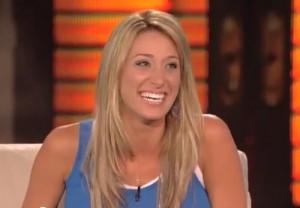 Vienna Girardi, former fiancée of The Bachelor's Jake Pavelka, appeared on Lopez Tonight on Thursday where she answered questions from fans via Twitter. But George Lopez had a question of his own for her about Jake.
OK! GALLERY: VIENNA GIRARDI GIGGLES & GUSHES WITH HER GAL PAL
"Now that the gay marriage ban has been overturned in California, do you think Jake Pavelka will become a contestant on the next Bachelor?" George asked Vienna.
Article continues below advertisement
"I have to PASS!" Vienna said back to which George then asked, "Is Jake more pilot or flight attendant?"
"You got to twitter if you want me to answer that question," she joked back.
"I just wanted him to love me," Vienna did say about Jake. "I wanted someone to kiss and hold me and care about me."
OK! GALLERY: VIENNA TREATS HERSELF TO SOME SPA PAMPERING
So, was she ever really in love with him?
"I think once you go through so many months with someone in that environment, you feel like you're in love with them," she explained "But once everything dies down and the dust settles, you really get to know the person. When we were at home and nothing else was really going on, that's when we really got to know who each other were. That's when you realize this isn't the man I'm going to marry. It was after the fact that we were already engaged and we got to know each other and we were like 'Who are you?'"