NEWS
Video: Watch Lena Dunham's Hilarious Audition for 'Zero Dark Thirty'!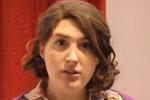 Watch: The Girls Cast Celebrates Their Golden Globes Win
Ok, we lied. Lena Dunham of Girls didn't actually audition for the Oscar-nominated film, Zero Dark Thirty. This video is of a girl named Chelsea Davison impersonating Lena who's impersonating Lena's character Hannah who's impersonating the Maya in Zero Dark Thirty. Got all that? But the spoof is so spot-on, down to the floral button-down top and the muffin - that we couldn't not share this gem with you.
Article continues below advertisement