NEWS
The Voice's Adam Levine Dishes on Christina Aguilera, Blake Shelton and the New Judges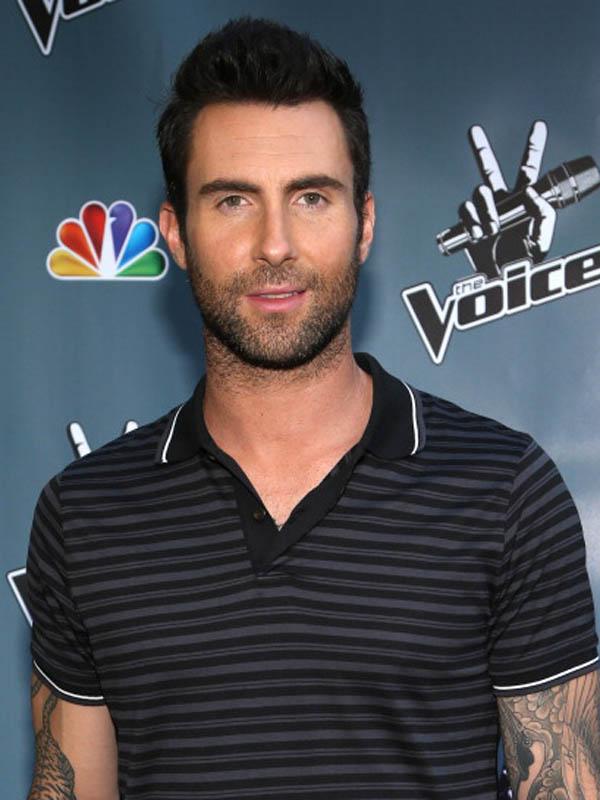 Article continues below advertisement
Christina often gets criticized for her weight or hair or clothing choices. Do you feel like the big brother that has to protect her when people are saying those kinds of things?
Well, people shouldn't say those kinds of things because f*** you. It's like come on guys. Grow up. The one thing about the culture right now, the celebrity culture particularly – that's so ugly is that people feel like they can just say nasty things about other people, whether it's Christina or whether or it's me. We all grow through it and obviously she gets a lot of it, which pisses me off, and of course I have her back and of course I defend her. I think that it's a really, really ugly part of our culture and I think that we – other countries do it too. England does it. They're probably the worst, but it's not nice to just kind of have your bread and butter be trashing other people. Everyone's so obsessed with trying to end bullying and 'It gets better' and this whole thing and on one hand they're saying that and then they're doing things like that. That's bullying. Sure, we may be confident, successful people that could take a punch, but it's just – it's not cool. I've never liked it. I think it's horrible and I will totally defend when people say things like that because it's none of anybody's business what anybody does unless they want to get into it and come out and talk about it which I clearly have no problem doing.
OK! GALLERY: STRIPPED AND DIRRTY! OK!'S ULITMATE CHRISTINA AGUILERA PHOTO GALLERY
Obviously we're sad to see Christina and Cee Lo take the next season off, but we have to ask – what was it like working with Usher and Shakira, especially with her expecting?
I know! I didn't know she was six months pregnant, too. It's crazy. It's bittersweet. No one can replace Christina and Cee Lo. It's not really possible. They're two extraordinarily unique people and also very good friends of mine at this point. It was really sad actually. I wasn't happy about it at first, but then when I found out that Usher and Shakira would be replacing them temporarily I was optimistic just because they're amazing artist in their own right. It was nice to see that the caliber of artists was kept the same – that even though they're very different. I knew it was going to be wonderful to work with them. Hopefully… You can never account for what the chemistry's going to be and the chemistry is there which is nice. It's a different chemistry, but that was a transition and it was fine. I think it went very smoothly and we're getting along great and like I said it is different, but trust me. And as far as Shakira is concerned she's not afraid to knock me out.
Article continues below advertisement
OK! GALLERY: ADAM LEVINE AND GIRLFRIEND BEHATI PRINSLOO GO GROCERY SHOPPING IN HOLLYWOOD
You are obviously close friends with the original coaches. How did you and Blake initiate Usher and Shakira into The Voice family? Any pranks?
Hazing, really? No, not really. You know it's funny, Blake and I had all these designs to make them feel very uncomfortable, but we saw how genuinely excited and slightly nervous they were. I know Usher doesn't really get nervous, but Shakira – not nervous, but just in a strange place for the first time. What happened was that instinct kicked in and we got extremely nice and we didn't do anything terrible. We didn't have it in our hearts to haze them too much. We welcomed them, made them feel really comfortable because that's what they deserve.
MORE ON:
Christina Aguilera
Can you talk about your chemistry with Blake on the show? Are you still friends with him and Miranda?
No, I hate that son of a b****. Laughs It's funny how a friendship that's forged in this way is publicized and marketed and things like that. It's kind of hysterical, actually, because at the root of it we're friends. He's a dear, dear friend of mine. I met him at NBC, the first meeting we had with The Voice people, and we just got along instantly. Same thing with Cee Lo. Obviously, Christina and I had our little silly little squabbles that were nothing, but now we're at that level as well. Blake and I from the first second were just friends and continued to be and will be for life. He's one of my best friends. 'I can't quit you.'
Article continues below advertisement
OK! GALLERY: CHRISTINA AGUILERA, ADAM LEVINE AND CEE LO GREEN GOOF OFF AT THE VOICE COCKTAIL RECEPTION
It seems like you and Christina are getting a lot better this season so is that true off-screen and will you miss her next season?
I will. You know, I will miss her. The feudy things that everyone discusses, that the press love to latch onto – did I say feudy? Strike that. The fights that everyone thought we were having were fictional. We never hated each other. We never were having some sort of secret battles that everyone thought we were having. There was silly bickering things that was like brother and sister would do. It was not nearly what everyone thought, however those are a thing of the past now. You get to a certain point where you realize that it's so much easier just to be, to keep the people, especially the coaches, to stay close and to get each other's backs and we came to that conclusion relatively quickly, but we were always just messing around. It was never serious. We're all good, Christina and I.