NEWS
Red Carpet Confidential: Tony Lucca Reunites With 'The Voice' Cast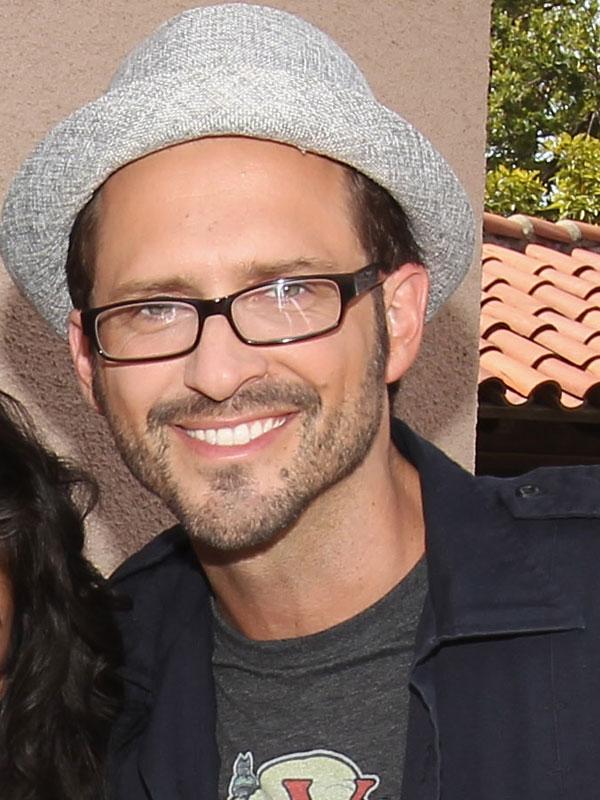 Since Tony Lucca placed third on The Voice three months ago amidst a war of words between judges Adam Levine and Christina Aguilera, life has slowed down considerably.
No longer gaming to stay in the competition on a weekly basis, he has directed his efforts towards making great music, albeit under a hotter spotlight than he previously knew as the former Mouseketeer and touring singer-songwriter who has hit the road solo in addition to opening for *NSYNC, Marc Anthony and Sara Bareilles.
Article continues below advertisement
In addition to singing the national anthem at the NASCAR All-Star Race and a Detroit Tigers game, he has performed steadily all summer. He's slated to headline Rock Ridge Music's Hotel Carolina beginning Sept. 20 at The Windjammer in Isle of Palms, S.C. and will head out on a full slate of tour dates this fall.
Indeed, the Detroit native enjoys a heightened respect.
"I finally made a trip to Nashville where I was actually able to get in there and write with some pretty amazing writers," he says. "That's a club house I've been trying to sneak into for years. They were pretty welcoming after the splash I made on the show. Hopefully there'll be more of that to come."
Article continues below advertisement
OK! BLOGS: RED CARPET CONFIDENTIAL: TONY LUCCA SPURS A MICKEY MOUSE CLUB REUNION
During The Grove show, Tony was joined by fellow Voice stars Dia Frampton, Juliet Simms and Chris Mann for a reunion of sorts.
"It feels pretty cool. We really did go through something extraordinary together and though we don't necessarily keep in close contact, the bonds are still very strong."
He continues, "Our bond is a rather supportive one. It's rooted in humor, which I'm guessing is what helped us deviate from the competitive nature of the show. It's definitely a mutual admiration society of sorts — right, guys?"
At the time, the finalists were under extreme pressure.
"It got pretty tense there for awhile, especially at the end, where you feel like 'oh, the competition's over, this is just icing on the cake, and whoever wins deserves it, and that's fine, and that's cool.' But then you get onstage there, and they're announcing the results and you're like 'no, man, I want to win this thing. I want to win!' That gets pretty tense, but you take it in stride, and it just becomes another day at work when you get voted through, or you make it to the next round. It's like 'OK, I get to keep working here.' You try not to think about the stakes or the scope of it or how big of deal it is or how many millions of viewers are watching laughs. That will drive you crazy."
Article continues below advertisement
WATCH TONY LUCCA OF THE VOICE SING AN ACOUSTIC VERSION OF DEATH OF ME
With all the drama, they must have funny memories and inside jokes.
"There were moments that were awkward at best so recalling all of our personal perspectives can be pretty amusing," he says. "Any actual 'inside' jokes are probably best kept inside though."
One moment that still makes him chuckle?
"I thought it was pretty funny laughs when Cee Lo Green broke wind during the semifinals there, and everybody had to deal with it, man," he says. "It was live, and it was like 'whoa, man, OK' that they all couldn't compose themselves enough to get past that moment. It was like 'oh my God.' It's one thing for reality TV, but it's another thing for live reality TV. It's like 'wow, that's really real.' I thought that was pretty hilarious, and quite a moment."
He adds, "Certainly when Adam busted out the 'Team Xtina' shirt. I thought that was laughs classic. That was pretty good."
What is his relationship like with coach Adam these days?
"Adam and I continue to trade texts pretty regularly. We've both been crazy-busy since the show ended, so it's been more a matter of keeping tabs on each other, seeing if we can somehow manage to run into one another."
One thing he's grateful about is that the Maroon 5 frontman will be hands-on in his approach to his new music.
Article continues below advertisement
"He wants to be involved, and I want him involved," he says, adding that there may be tour dates with Maroon 5 in the future.
WATCH THE VOICE'S TONY LUCCA CHAT WITH OK! ABOUT CHRISTINA AGUILERA, THE MICKEY MOUSE CLUB AND MORE
As for his relationship with Christina?
"It's water under the bridge as far as I'm concerned," he says. "I'm sure something will pop up in the name of a song or two either on her end or mine that touches on the subject some more, but on a personal level, I won't see or speak to her again until they bring us back for guest appearances on the show for season three — if, and when they do that, and we've been told they will."
MORE ON:
Red Carpet Confidential
He adds, "Obviously, we didn't have a personal relationship going into this season, and I don't see us having one going out. It certainly won't be on my end — I won't be proactively seeking that, but during the results, after Jermaine Paul won, we did have a moment where she kind of apologized for things snowballing out of proportion, and made a half-hearted attempt to lay the blame on Adam maybe, and I was like 'you know what? laughs I'm over it, man. I'm already over it. I just want to be cool moving forward, and I want you to know that I wasn't being vindictive in any of my efforts to counter your criticisms, and it's all in the name of good fun and making the most of our time here.' But that was really it. I think she said something to the effect of wanting to have a one-on-one, but that never manifested, and I don't see it happening now."
Article continues below advertisement
Behind the scenes, things were tense.
"The last few days, a lot of what went down trickled through the media through rumors and inside sources, but it was all very real. laughs It got pretty serious. For the sake of the brand and the show and all the wonderful people involved in making it and everyone who is invested in it as a brand and as a home, so to speak, myself included, I really hope that Adam and Christina are able to work through things, because it got pretty heavy at the end. It would be unfortunate if they weren't able to sort it back and get back to the playfully tenuous relationship that they were maintaining before I got on the show."
He adds, "It definitely started feeling like 'wow, man, this is really happening.' They're going to look back through all the seasons of the show, and this is definitely going to be the lasting impression that everybody walks away with from season two, was the year that Tony Lucca came on the show, and he and Christina had a brutal and publicly exploited exchange.'"
How did his 9-year-old son Liam react to being called a girl on national TV after Christina bashed his performance of Jay-Z's 99 Problems as being "derogatory towards women," calling out his wife Rachel and daughter Sparrow as the camera panned to his son? (His daughter did not attend the show that evening.)
Article continues below advertisement
"That was just her not deviating from her talking points," he explains. "That was her not being perceptive or aware that my daughter didn't happen to be there that day. My daughter had been there for numerous other tapings, but she hadn't been there that day, and Christina had to act like she was being perceptive when she knew what song I was going to do, and she thought I was going to say 'bitch' and so she wanted to set up the contrast to make it look like I was disrespectful to women, so she didn't deviate from her talking points. Unfortunately, my son was the victim of that. We explained to him, 'no, buddy, she wasn't calling you a girl, she just wasn't smart enough to recognize that Sparrow wasn't there, and I'm sorry that that happened to you, but hey — whatever.'"
OK! BLOGS: RED CARPET CONFIDENTIAL: TONY LUCCA GETS HELP FROM ADAM LEVINE ON THE VOICE
Does Tony feel that the feud helped or hurt his chances?
"Well, it helped me personally. It definitely motivated me to a new level of passion, and certainty and confidence in what I was doing. Creatively, I think we touched on things that we certainly wouldn't have otherwise. As far as the results and coming in third, assuming those are all legitimate results laughs, yeah, there's no other way to read it. OK, as exciting and fun as it was for TV, I think America just wasn't as excited about that kind of drama as Adam, me and Christina may have been."
Article continues below advertisement
Hm, legitimate results? While he trusts that the results are valid, he is aware that The Voice is a TV show, and its success is based on ratings.
Still, he's grateful he placed at #3.
"I trust that things are going to be just fine. There's a bittersweet sense of relief in not winning, to be honest, because there's a lot of pressure, I would suppose laughs — winning and having to live up to something, whereas as opposed to now, I get to sort of be the underdog and move forward and try to win this way, anyway."
Visit TonyLucca.com for tour dates and a special announcement coming soon.