NEWS
Watch Ann Curry Tearfully Announce She's Leaving 'The Today Show'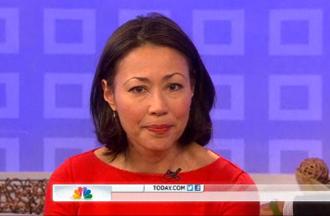 After 15 years on the show, Ann Curry has officially announced that she's leaving Today and will no longer be co-host alongside Matt Lauer.
Ann tearfully broke the news this morning, revealing that her departure will be effective immediately.
OK! NEWS: PETITION TO SAVE ANN CURRY'S JOB ON THE TODAY SHOW SURFACES - IS IT TOO LATE?
"This is not easy to say," a choked-up Ann said this morning, as her co-stars Matt, Natalie Morales and Al Roker sat on the sofa next to her. "This is going to be my last day as a regular co-host of Today. I will still be part of the Today Show family, but I'm going to have a new title and a new role."
Article continues below advertisement
Ann explained that she will roam the world for NBC, reporting on breaking news, something we all know she is very good at.
"This is not how I expected to ever leave this couch after 15 years, but I am so grateful, especially to all of you who watch," Ann, 55, continued with tears in her eyes as she addressed her fans. "Because Matt and I and everyone who sits on this couch, we often call ourselves a family, but you are the real Today Show family. I have loved you and I have wanted to give you the world. And I still do."
OK! NEWS: IS ANN CURRY GETTING REPLACED ON TODAY?
And in a heartbreaking moment, Ann, who was obviously blindsided by her sudden departure from the morning show she's considered home for over a decade, ended with, "To those of you who saw me as a groundbreaker, I am sorry that could not carry the ball across the finish line – but, man, did I try."
Reportedly, Ann, who took over for Meredith Vieira when she left last year, will be succeeded by 9 a.m. anchor Savannah Guthrie.