NEWS
Watch Chelsea Kane Samba to Miley Cyrus' 'Party in the USA' on 'Dancing With the Stars'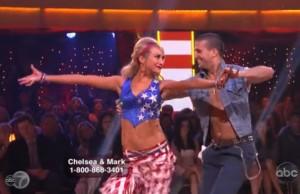 Article continues below advertisement
And it seemed like she did just that, even though her score of 26 didn't beat Hines Ward and Kym Johnson's 27.
"The sizzle! You're so good, you're so tight, you're a really really good dancer my darling," judge Bruno Tonioli told Chelsea.
OK! NEWS: KENDRA WILKINSON CHOSEN FOR 1,000TH DANCE ON DWTS — "I WAS SO PROUD, SO HAPPY"
Even if she didn't earn the top spot this week, Chelsea had fun dancing to "Party in the USA." And Chelsea said she told Miley ahead of time she'd be dancing to it!
"Yeah, yeah I did. But she was sick. We were trying to get her to come to the show, she was really sweet," Chelsea told reporters. "She Facebooked us and was a huge supporter."
And Chelsea sure looked amazing during her performance — especially her abs! So, how does she keep them so toned?
"Literally this show," she said. "The only reason I'm wearing wardrobe that shows my belly is that I used to wear everything I can to hide it, it hasn't looked remotely close to this."
Watch Chelsea's performance below!
Reporting By Amanda Champagne