NEWS
Watch "Dance Doctor" John Travolta Give Kirstie Alley Advice on 'Dancing With the Stars'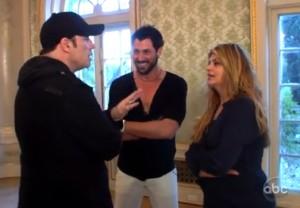 Article continues below advertisement
"Romantically what's going on here?" John asks."
When Kirstie says "nothing" John answers "that's the problem."
And John asked Maskim if he tells Kirstie he loves her enough.
"I do in Russian," he said.
"That's not going to work this week because it's American week," John answered.
OK! NEWS: CHRIS JERICHO SAYS HE IS RESPONSIBLE FOR PIA TOSCANO & MARK BALLAS' LOVE CONNECTION
Kirstie and Alley then took the stage and performed their foxtrot to "American Woman" with Maksim only wearing leather pants and a tattoo of the American flag!
Carrie Ann Inaba gave them an 8, Len Goodman a 7 and Bruno Tonioli an 8."
After the show, Kirstie told reporters how she felt about her dance.
"I feel happy. I feel like the hex was broken," she said. "Probably more than the other dances, I was really present. I was really comfortable again. The first week, I was actually pretty comfortable and then I wasn't 'til this dance."
And she has John to thank for calming her nerves!