NEWS
Watch Courteney Cox Admit David Arquette Tried & Failed to Hit on Her at Disney World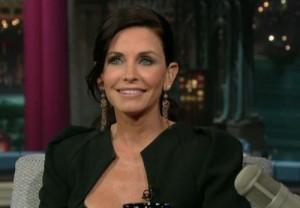 David Arquette recently revealed to Howard Stern that he tried to hit on his estranged wife, Courteney Cox, during a family trip to Disney World, but she turned him down. Courteney appeared on The Late Show With David Letterman and confirmed the story!
OK! NEWS: DAVID ARQUETTE & HOWARD STERN DEBATE COURTENEY COX'S COUGAR TOWN DATING RUMORS
David told Howard yesterday (via X17), "Listen, I tried to f*** her, and she doesn't even want me. I thought, this is the happiest place on Earth! Let's make it happier!"
Article continues below advertisement
But Courteney explained to David Letterman that she did not feel the same way.
"He did try to hit on me. He hit pretty hard," Courteney explained. "And I said, 'No more fast pass right now. Not that ride!'"
They both had some very nice Disney jokes!
But Courteney is very proud of David and all that he has accomplished since they separated.
"He's somethin' else ... over 100 days sober now," she said. "He's doing great."